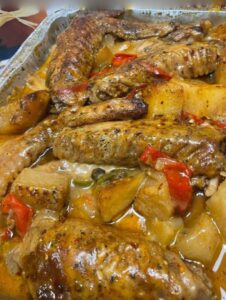 These turkey wings are thoroughly seasoned, then baked until perfectly tender! In just a few simple steps you'll have flavorful, fully cooked wings. Serve these delicious turkey wings alongside mashed potatoes and your favorite veggies for a fun holiday or weeknight meal!
What Are Turkey Wings?
Unlike turkey legs, turkey wings are considered white meat but have a richer, more gamey flavor than turkey breast. Turkey wings have all the flavor of whole roast turkey without having to cook an entire bird or wait for Thanksgiving.
You'll find whole turkey wings at the supermarket, as well as those that have been separated into wings and drumettes (the top part of the wing). Turkey wings also have a wing tip which is often included in the wing cut and trimmed off before cooking.
What Does It Taste Like?
Turkey wings are packed with dark, rich, juicy flavors and have a heartier texture than chicken wings. The skin crisps up nicely for a pleasant textural contrast. Marinating turkey wings helps keep them moist and flavorful during cooking.
SHOULD YOU WASH YOUR TURKEY?
Absolutely. When cooking turkey or any meat for that matter, please always wash the meat first.
Washing the meat will give you a cleaner scent when cooking. You will not see that dark foamy liquid while it cooks.
It will taste so much better and lighter.
You'll also risk not having foodborne illnesses. When it comes to cleaning turkey, we apply the same cleaning method outlined in the how-to-clean a turkey post.
HOW DO YOU CLEAN TURKEY WINGS?
We like to use vinegar, lime, or lemon to clean our meat. Place the meat in the sink. Scrape off the feather. Then fill the sink with distilled vinegar – about 1 gallon and use your hands to properly clean the meat while it is in the water. Rinse the meat with warm water and pat dry.
DO YOU COOK WHOLE TURKEY WINGS OR CUT THE WINGS IN HALF?
It is entirely up to you if you cut the turkey wings in half or cook them whole. We prefer to cut the wings in half. Remember, just like chicken wings, the turkey wing is made of the tip, the flat section or the wingette, and the drumette.
Some people like to discard the tips as it is not as meaty. We do not. As a matter of fact, we often leave it with the flat part.
We also find that when we cut the turkey wings, it makes it easier to serve to our family as our children will not eat an entire wing in one sitting.
When you cut the wings in half, it's best to use sharp kitchen scissors or a sharp kitchen knife.
Cutting the turkey in half will allow you to cook the turkey at a more even temperature.
WHY DO YOU PAT A TURKEY DRY?
Pat the turkey dry to remove any leftover water from when you cleaned it. Once you pat it dry, rub it with oil before you apply the seasoning.
HOW TO GET A CRISPY SKIN TURKEY WING
If you want your turkey wings to be nice and crispy, start off by baking the wings as mentioned above (covered). Drain the liquid or transfer the meat to a cookie sheet lined with parchment paper.
Baste with butter and place back in the oven and increase the temperature to about 415 degrees and bake until crispy. Or move the meat to the second rack or middle rack and broil on low while rotating the meat to crisp up.
HOW DO I KNOW WHEN MY BAKED TURKEY WINGS ARE DONE
You'll know your meat is done when the temperature reaches 165 degrees instantly when a meat thermometer is inserted in the thickest part of the wings. According to the U.S. DEPARTMENT OF AGRICULTURE
Ground Meats: This change does not apply to ground meats, including beef, veal, lamb, and pork, which should be cooked to 160 ºF and do not require a rest time.
Poultry: The safe cooking temperature for all poultry products, including ground chicken and turkey, stays the same at 165 ºF.
Turkey Wings vs. Chicken Wings?
Featuring almost identical cuts, chicken wings can be substituted for turkey wings in most recipes and vice-versa. Chicken wings, while easier to find year-round and more common in recipes, contain less meat than turkey wings, so you'll want to cook more of them to compensate. Turkey wings are also a larger cut, so increase your cook time accordingly.
How to Store Turkey Wings?
Store uncooked turkey wings in their original packaging in the refrigerator for up to two days or up to six months frozen. Once cooked, turkey wings will last in the fridge for four days.
When thawing turkey wings, transfer them to the refrigerator a day or two before you plan to cook them, depending on the size of the package. It's best to let them completely thaw in the fridge before cooking.
The Best Way To Reheat Turkey wings
Our testing found that the best way to cook a whole turkey (and reheat it the next day) is to cook it low-and-slow in the oven. Here's how:
1. Preheat the oven.
Preheat an oven to 325 degrees F.
2. Let the turkey come to room temperature.
Start by leaving your turkey leftovers out on the counter for 10 to 30 minutes before reheating. This will return the meat to room temperature, and help it reheat more evenly.
3. Carve and place in a baking tray.
If you haven't already, carve the turkey up into smaller pieces before reheating it. Keep your cuts as uniform as possible to prevent the smaller bits from drying out. Remove what you can from the bone (drumsticks are fine as-is) and place the turkey in a single layer on a baking tray.
Prep:
15 minutes
Cook: 1 hour 45 minutes
Total: 2 hours
Key Ingredients:
Turkey Wings – Arguably the best part of the turkey, they consist of juicy dark meat and are coated in a crispy skin. They're a great alternative to roasting an entire turkey, and a whole lot cheaper too! Turkey wings are a great option for smaller families or ones who simply prefer them over any other part of the bird (if this is you, I agree!).
Chicken or Turkey Broth – Once seasoned, the broth is poured over the wings and into the baking dish. You'll then cover the dish in foil before placing it in the oven. This allows the broth to bubble and creates flavorful steam which cooks the wings. The meat also absorbs much of this moisture, preventing them from drying out.
 Tips:
Feel free to save the pan drippings to turn into a delicious and intensely flavorful gravy! The liquid at the bottom of the baking dish is packed with flavor, which I would hate to see go to waste. Therefore, either turn it into gravy or use it to baste your wings!
Pat the turkey skin dry before seasoning and roasting. Dried skin will bake up even crispier in the oven, so don't skip this very important first step!
Keep in mind that turkey wings come in a variety of sizes, and different sizes can take different times to cook. In order to ensure your wings are cooked through, simply insert a meat thermometer into the thickest part of the wing. Once the thermometer reads 180° Fahrenheit, then they're ready to enjoy!
Ingredients :
2 Lbs Turkey Wings
1 Cup Onions, coarsely chopped
1/2 Cup Green Peppers, coarsely chopped
4 Tbs Vegetable Oil
1 Tbs Butter
1/4 Cup All-Purpose Flour
10 oz Campbell's Cream of Chicken Soup
3 Cups of Turkey Broth
1 Tbs Salt
1 Tsp Garlic Powder
1 Tsp Onion Powder
1/2 Tsp Ground Sage
1/2 Tsp Dried Thyme
1/2 Tsp Dried Rosemary
1/2 Tsp Black Pepper
Ingredients :
2 Lbs Turkey Wings
1 Cup Onions, coarsely chopped
1/2 Cup Green Peppers, coarsely chopped
4 Tbs Vegetable Oil
1 Tbs Butter
1/4 Cup All-Purpose Flour
10 oz Campbell's Cream of Chicken Soup
3 Cups of Turkey Broth
1 Tbs Salt
1 Tsp Garlic Powder
1 Tsp Onion Powder
1/2 Tsp Ground Sage
1/2 Tsp Dried Thyme
1/2 Tsp Dried Rosemary
1/2 Tsp Black Pepper
Instructions:
Preheat the crockpot: Turn the crockpot to high heat and close the lid.
Season both sides of the turkey wings with all the seasonings (except the Rosemary & Thyme).
Place a skillet over medium-high heat and add in the oil.
After 2 minutes, add in the turkey wings and sear on each side for 3 to 4 minutes, then remove and add them to the crockpot.
Add the butter, onions, and peppers to the skillet and saute for 2 minutes, then remove and add to the crockpot with the turkey wings.
Slurry for gravy: In a big bowl, combine the turkey broth, cream of chicken, and flour, then stir well.
Pour the slurry into the crockpot over the turkey wings.
Sprinkle in the Rosemary & Thyme, cover with the lid, and cook for 3-1/2 hours.
Notes
This method will also work for turkey legs and chicken legs.
For really crispy skin, when you take the baking dish out of the oven and remove the foil, transfer the turkey wings to a baking sheet fitted with a wire baking rack, then return the wings to the oven to bake uncovered 15-20 minutes. The heat in the oven will be able to circulate around the wings on the baking rack, giving them a crispier skin.
Be sure to cook the wings to a food-safe temperature of 165° Fahrenheit. Use an internal meat thermometer to ensure the wings are fully cooked before serving.
Nutrition Information
Calories: 521kcal, Carbohydrates: 1g, Protein: 48g, Fat: 35g, Saturated Fat: 8g, Polyunsaturated Fat: 7g, Monounsaturated Fat: 16g, Cholesterol: 160mg, Sodium: 2124mg, Potassium: 627mg, Vitamin A: 25IU, Calcium: 38mg, Iron: 3mg, Net Carbs: 1g