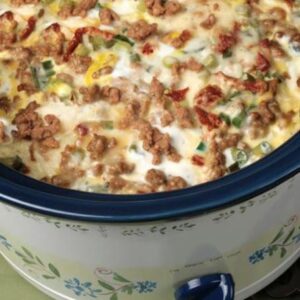 Ingredients :
1 (26 to 32 ounces) package of frozen shredded hash brown potatoes
1 package Jimmy Dean® Hearty Original Sausage Crumbles
2 cups shredded mozzarella cheese
1/2 cup shredded Parmesan cheese
1/2 cup sun-dried tomatoes packed in oil, drained, julienne cut
6 green onions, sliced
12 eggs
1/2 cups milk
1/2 teaspoon salt
1/4 teaspoon ground black pepper
PREPARATION:
Spray a 6-quart slow cooker with cooking spray. Layer 1/2 of the potatoes on the bottom of the slow cooker. Top with half of the sausage, mozzarella, Parmesan cheese, sun-dried tomatoes, and green onion. Repeat layering.
Beat eggs, milk salt, and pepper in a large bowl with a wire whisk until well blended. Pour evenly over the potato-sausage mixture.
Cook on low setting for 8 hours or on high setting for 4 hours or until eggs is set.