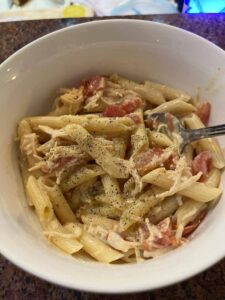 What you need:
– any pasta
– 10oz can regular rotel
– half of an 8oz velveeta block
– 12 oz canned chicken
– milk
– salt and pepper to taste
All you have to do is cook the pasta on the stove. Then, heat the velveeta in the microwave and combine it into the pasta with some milk. Then, add the rotel (drained) and chicken (shredded) and stir in pepper/salt to taste. Done! Super cheap and buildable. Sometimes, I even add freeze-dried broccoli to it for some extra nutrition.