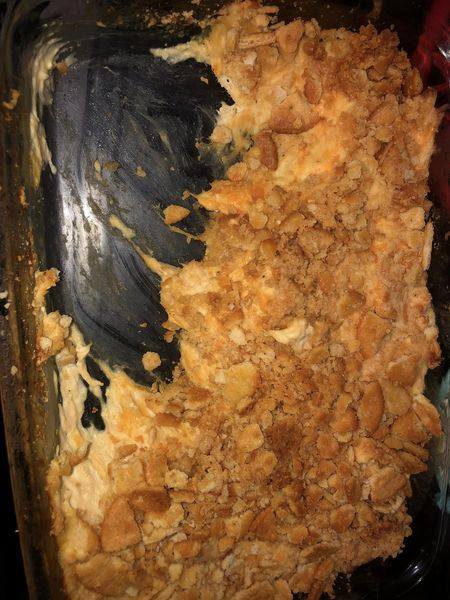 Chicken casserole.
2 cans of cream of chicken (Walmart great value is .68 c a can)
2 boxes of cream cheese (great value Walmart brand 3.18)
A pack of chicken, whatever is cheapest at your store or on sale at the time, I got chicken tender meats on sale an cooked them in crockpot over night an they were ready to shred with a mixer to go in your (mix)
Cheddar cheese (great value 3.98, an I only used half a pack of 16 oz)
And 2 packs of ritz crackers 2.98 you get a 4 pack only needed 2
Butter & salt/pepper to your taiste.
Lay your cream cheese out to soften
Cook your chicken breast ( I do overnight in crockpot)
Shred chicken
In a bowl mix your softened cream cheese, cream of chicken, cheddar cheese, THEN once that's mixed evenly add your shredded chicken (salt pepper to taiste) don't forget your cheese an crackers will also add salt so don't over do it.
Now that everything is mixed in your bowl grab a different bowl add you a stick of melted butter an 2 packs of crackers, mix that.
I use a baking casserole dish.
Add your meat mixture first no need for any nonstick or anything it's plenty creamy/juicy ie spread out evenly, then add your cracker butter mixture on top of that evenly ( kinda like your icing on the cake )
Bake 350 for 30 min an you have a delicious meal that's a hit with the whole family!! Even your picky eaters! This feeds a house of 4 with leftovers!!
Tweek it how you want but it's under $20.00 to feed a family of 4!!