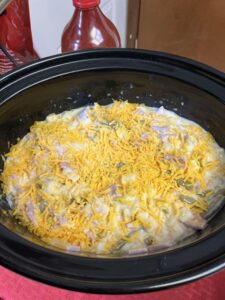 Creamy Crockpot Potato Soup
Mini Presentation: Prepare to indulge in a bowl of pure comfort with our Creamy Crockpot Potato Soup. This hearty soup is the perfect remedy for a chilly day or when you need a satisfying, heartwarming meal. Packed with creamy goodness and flavorful ingredients, it's a family favorite you'll want to make again and again.
Ingredients:
2 cans of cream of chicken soup
3 cans of diced potatoes
2 cans of milk (use the soup cans for measuring)
1 can of corn
1 can of green beans
4 cups of shredded cheddar cheese
Ham (amount to your liking)
Salt, pepper, onion, and garlic to taste
Sour cream (optional, for topping)
Instructions:
Begin by combining the cream of chicken soup, diced potatoes, milk, corn, green beans, shredded cheddar cheese, and your choice of ham in your trusty crockpot.
Season your mixture with salt, pepper, onion, and garlic to achieve the perfect balance of flavors.
Stir everything together until well combined, making sure the cheese begins to melt into the creamy goodness.
Cover your crockpot and let the mixture simmer on low heat. This will allow all the ingredients to meld together beautifully.
Once the soup is ready and all the flavors have harmonized, serve it up in your favorite soup bowls.
For an extra touch of richness and flavor, consider topping your soup with a dollop of sour cream.
Enjoy your Creamy Crockpot Potato Soup – a true delight for those seeking warmth and a heartwarming meal.