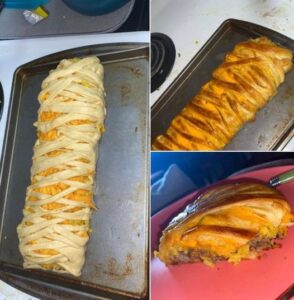 Cheesy Hamburger and Rice Bake
Mini Presentation: Elevate your next dinner with our Cheesy Hamburger and Rice Bake! This easy-to-make dish is not only delicious but also budget-friendly, using simple ingredients you probably have at home. Perfect for a cozy family dinner or when you need a hearty and satisfying meal.
Ingredients:
1 pound of seasoned hamburger
1 pack of yellow Mexican rice
Shredded cheddar cheese (measure with your heart)
1 can of crescent dough sheet
Butter for basting
Instructions:
Preheat your oven to 350 degrees to get ready for some delicious baking.
Begin by cutting slits on the sides of the crescent dough sheet. This will allow the dough to envelop your flavorful filling.
Cook the hamburger until it's nicely browned, then drain any excess grease. Season it to taste for that extra kick of flavor.
Prepare the yellow Mexican rice according to the package instructions.
Now, it's time to assemble your bake. Lay the crescent dough sheet flat, and spread the cooked hamburger evenly on top.
Next, add the cooked Mexican rice on top of the hamburger layer. This will create a hearty and flavorful base for your dish.
Generously top it all with a layer of shredded cheddar cheese. The more cheese, the better!
Weave the sides of the crescent dough over the top, creating a lovely envelope for your delicious filling.
Melt some butter and baste it on top of the dough to give your bake a beautiful golden finish.
Bake in your preheated oven until the crescent dough is perfectly golden and the cheese is bubbly.
Slice, serve, and savor every bite of your Cheesy Hamburger and Rice Bake. A delightful dish made with love from what you had at home.