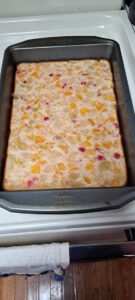 Dolly Parton's Cuppa Cuppa Cake
Mini Presentation: Enjoy a taste of Dolly Parton's sweet magic with this Cuppa Cuppa Cake recipe! This delightful dessert is as charming as the legendary singer herself. It's incredibly easy to make and the perfect treat to satisfy your sweet cravings.
Ingredients:
1 cup of all-purpose flour
1 cup of sugar
2 cans of fruit cocktail with the juice
Instructions:
Preheat your oven to 350°F (175°C) to get ready for some baking fun.
In a mixing bowl, combine 1 cup of all-purpose flour and 1 cup of sugar. Stir them together until well mixed.
Now, add the 2 cans of fruit cocktail with their juice to the dry mixture. This fruity addition will bring a burst of flavor to your cake.
Stir all the ingredients together until well combined. You'll have a slightly lumpy batter due to the fruit cocktail pieces, and that's just what you want.
Grease a baking pan to prevent sticking. You can use a square or rectangular pan, depending on your preference.
Pour the cake batter into the greased pan and spread it out evenly.
Bake the cake in your preheated oven for about 45 minutes or until it turns golden and gets delightfully bubbly.
Once your Cuppa Cuppa Cake is baked to perfection, you can top it with a scoop of vanilla ice cream or a dollop of whipped topping for an extra touch of deliciousness.
Serve your cake warm, and enjoy every mouthwatering bite of this Dolly Parton-inspired dessert. It's a real treat, just like the music icon herself!