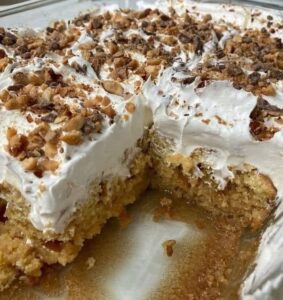 Toffee Butterscotch Poke Cake – seen this and had to try it. So delicious!
Ingredients
1 (15.25 oz) box yellow cake mix
3 eggs
1 cup water
1/3 cup vegetable oil
1 (10 oz) jar butterscotch sundae syrup or ice cream topping
1 (14 oz) can sweetened condensed milk
1 (16 oz) tub Cool Whip (thawed)
1/2 cup toffee bits
1 (2 oz) package honey toasted peanuts, chopped
Instructions
Preheat oven to 350˚F. Combine cake mix, eggs, water, and oil in a large mixing bowl. Mix with an electric mixer on high until uniform in color. Pour into a 9"x13" pan. Bake for 23-25 minutes or until knife inserted in center comes out clean.
While cake is baking combine butterscotch and condensed milk until smooth. Using the end of a wooden spoon poke holes in the warm cake, going almost to the bottom of the pan each time if possible. Pour butterscotch mixture over the warm cake, taking care each of the holes gets filled with sauce. Refrigerate for 2-4 hours.
When ready to serve top spread Cool Whip over the entire cake in an even layer. Top with toffee pieces and chopped peanuts. Keep refrigerated after making.