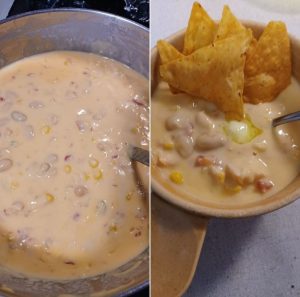 Ingredients:
3 cooked and chopped chicken breasts or 2 large cans of white chicken
2 cans cream of chicken soup
2 cans of navy or cannellini beans, drained
1 can (10 oz) Rotel tomatoes, mild
2 cans shoepeg corn (or 1 large can of white and yellow sweet corn)
16 ounces Velveeta cheese, chopped
2 soup cans of water
Crushed tortilla chips (for serving)
Instructions:
Prepare Chicken:

If using fresh chicken, cook and chop it into bite-sized pieces. If using canned chicken, drain the water off.

Combine Ingredients:

In a large pot or Dutch oven, combine the cooked and drained chicken, drained navy or cannellini beans, Rotel tomatoes, drained corn, and cream of chicken soup.

Add Water:

Add 2 soup cans of water to the pot. Stir the ingredients together.

Add Velveeta:

Add the chopped Velveeta cheese to the pot. Stir well to combine.

Melt Cheese:

Keep the heat low and stir the mixture to prevent scorching on the bottom. Continue stirring until the Velveeta cheese is completely melted.

Simmer:

Allow the chili to simmer on low heat, stirring occasionally, until it reaches your desired temperature and consistency.

Serve:

Serve the white chicken chili over crushed tortilla chips for added texture and flavor.

Enjoy:

Enjoy this delicious and easy Dump-and-Go White Chicken Chili that requires minimal effort and is perfect for a quick and satisfying meal.
This recipe is a fantastic option for those busy days when you crave a comforting bowl of chili without spending too much time in the kitchen.