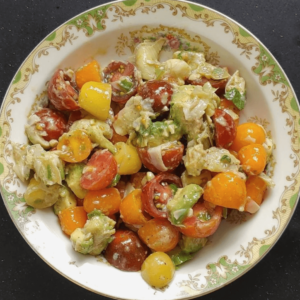 •1 pint heirloom cherry tomatoes (quartered).
•1 large avocado (cubed).
•1/2 cup marinated artichoke hearts.
•1/4 cup hazelnuts (chopped).
•5-6 mint leaves (chiffonade).
•3 tbsp chives (chopped).
•1 tbsp white balsamic vinegar or red wine vinegar.
•Salt and pepper to taste.
•1.- Mix everything for the vinaigrette using the tomato juices as the base.
•2.- Add everything in, mix and enjoy!