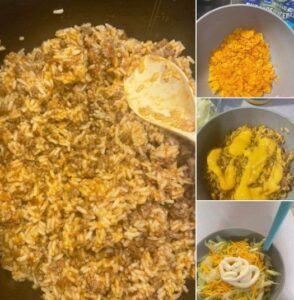 Taco Rice is a delightful and budget-friendly dish that's not only perfect for kids but also for anyone seeking a quick, satisfying, and economical meal. This recipe transforms simple ingredients into a flavorful and filling experience that can easily feed a crowd. The combination of seasoned ground beef, rice, and vibrant taco toppings creates a versatile dish that can be customized to suit individual preferences. Whether served on a bed of crushed Doritos or as a dip with tortilla chips, Taco Rice offers a fun and delicious twist on classic taco flavors. Get ready for a dish that's not only easy to prepare but also sure to be a hit at family gatherings or weeknight dinners.
Ingredients:
1 pound ground beef
1 packet taco seasoning
2 cups water
2 cups Minute rice
Crushed Doritos or tortilla chips
Nacho cheese
Optional toppings: lettuce, cheese, sour cream, salsa, olives, jalapeños, tomatoes, etc.
Instructions:
Brown the Ground Beef:

In a large skillet, brown the ground beef over medium-high heat. Drain any excess fat.

Add Taco Seasoning and Rice:

Add the taco seasoning packet, 2 cups of water, and 2 cups of Minute rice to the skillet with the browned beef. Stir well to combine.

Bring to a Boil and Simmer:

Bring the mixture to a boil, then cover the skillet. Reduce the heat to the lowest setting and let it simmer covered for 5 minutes. This allows the rice to absorb the flavors and cook through.

Prepare the Serving Base:

Serve the taco rice on top of crushed Doritos or tortilla chips, creating a flavorful base for your dish.

Top with Nacho Cheese:

Pour nacho cheese over the taco rice, providing a gooey and indulgent layer.

Add Toppings:

Customize your taco rice by adding your favorite taco toppings. Options include lettuce, cheese, sour cream, salsa, olives, jalapeños, tomatoes, and any other toppings you enjoy.

Serve and Enjoy:

Serve Taco Rice as is or encourage a hands-on experience by offering tortilla chips on the side for dipping. Enjoy this quick, kid-friendly, and crowd-pleasing meal with all the vibrant flavors of a classic taco.
Feel free to experiment with different toppings to suit your taste, and get ready for a simple yet satisfying Taco Rice experience!