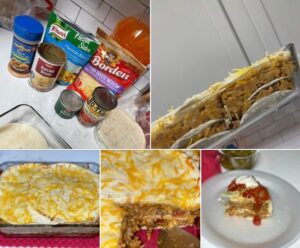 Prepare your taste buds for a Tex-Mex fiesta with this delightful Taco Lasagna! A creative twist on traditional lasagna, this recipe combines the bold flavors of ground beef seasoned with taco spices, creamy refried beans, zesty taco sauce, and the freshness of lettuce and sour cream. Layered with cooked rice and nestled between gooey melted cheese, each bite is a harmonious blend of textures and tastes. Perfect for a family dinner or a gathering with friends, this taco-inspired dish brings the joy of a fiesta to your dining table.
Ingredients:
1 lb ground beef
Chopped lettuce
Taco sauce
Sour cream
Cooked rice
Refried beans
Taco seasoning
Shredded cheese (missing ingredient)
Directions:
Prepare the Ground Beef:

Brown the ground beef in a skillet, then drain any excess fat.

Cook the Rice:

Cook the rice according to the package instructions.

Heat the Refried Beans:

Heat up the refried beans on the stovetop or in the microwave until warmed through.

Season the Beef:

Mix taco seasoning into the ground beef, adding an extra layer of flavor.

Assemble the Layers:

In a bowl, combine the seasoned ground beef, cooked rice, and refried beans.

Layer Like a Lasagna:

In a baking dish, create layers by alternating between the beef and rice mixture, taco sauce, shredded cheese, and chopped lettuce.

Bake to Perfection:

Place the assembled dish in the oven at 350°F and bake until the top cheese is melted and bubbly.

Garnish and Serve:

Once out of the oven, top your Taco Lasagna with dollops of sour cream and additional taco sauce. Garnish with fresh chopped lettuce.
Quick Tips:
Get creative with cheese choices; cheddar, Monterey Jack, or a Mexican blend work well.
Customize the dish with your favorite taco toppings like diced tomatoes, jalapeños, or green onions.
Serve with tortilla chips or warm tortillas on the side for an extra authentic touch.
This Taco Lasagna is a crowd-pleaser that brings the vibrant and bold flavors of a taco night into a comforting and shareable casserole. Spice up your dinner routine with this fusion of classic lasagna and south-of-the-border flair! 🌮😋