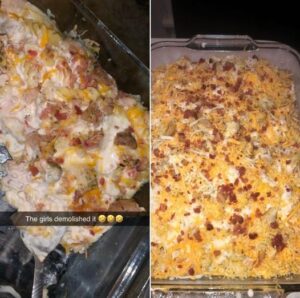 Indulge your taste buds in a symphony of flavors with this mouthwatering Chicken Bacon Ranch Casserole! Perfect for those who appreciate a dish that's quick, easy, and budget-friendly, this casserole brings together the savory goodness of chicken thighs, the richness of Alfredo sauce, and the irresistible combination of ranch and crispy bacon. With a medley of cheeses and perfectly cooked rotini noodles, each bite is a delightful journey into comfort food heaven. Plus, you'll love the flexibility to customize it to suit your family's taste preferences.
Ingredients:
1 box Rotini noodles
1 jar Alfredo sauce
Half a bottle of Ranch dressing
Bacon or bacon bits
4 Boneless, skinless chicken thighs
Your choice of cheese(s) (Colby Jack and triple cheddar used)
Directions:
Prepare the Chicken:

Cook and season the chicken thighs, then cut them into small, bite-sized pieces.

Cook the Bacon:

Cook the bacon until crispy, then cut it into small pieces. If using bacon bits, you can skip this step.

Cook the Noodles:

Cook the rotini noodles according to the package instructions until they are al dente.

Prepare the Sauce:

In a bowl, mix together the ranch dressing and Alfredo sauce.

Layer the Casserole:

In a baking dish, create layers by combining noodles, chicken, sauce, cheese, and bacon. Repeat until you finish the ingredients.

Bake and Cool:

Bake the casserole for 10-15 minutes at 350°F until the cheese is melted and bubbly. Allow it to cool for a few minutes before serving.
Quick Tips:
You can use chicken breasts if preferred, but chicken thighs provide a juicier and more economical option.
Experiment with different cheese varieties to elevate the flavor profile of your casserole.
Adjust the quantity of Alfredo sauce and ranch dressing based on your taste preferences and the number of servings needed.
This Chicken Bacon Ranch Casserole is a testament to the fact that delicious meals need not be complicated or expensive. Enjoy the delightful union of flavors and textures, and savor the satisfaction of creating a family favorite casserole that's both effortless and delectable! 🍽️😋