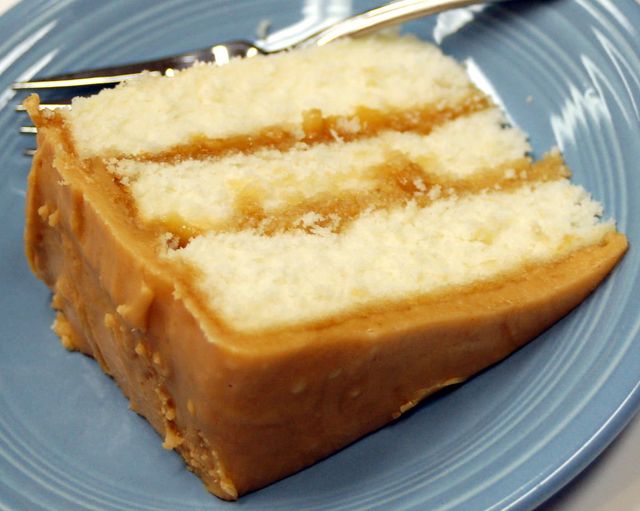 If you grew up in the south or spent some time there, this caramel cake will be familiar to you – and will probably make you drool if left in your presence. A true Southern-style caramel cake is a moist, slightly sweet yellow cake that tastes light and fluffy, but serves more as a vehicle to get the rich and delicious caramel icing into your mouth as quickly as possible. (If some of the caramel icings doesn't even get on the cake, we understand, it's really hard to resist the urge to slip some of it in before it even gets close to the cake).
We digress. So, we all understand the two main counterparts here, right? A nice yellow cake and a silky smooth caramel icing. The former is easy to assemble, just like you would make any cake, by first skimming the shortening and sugar together, then mixing the eggs and alternating between adding the dry ingredients and milk. Easy to freeze.
Next, make the icing. Some will say that it's not an authentic Southern caramel cake (hence the expression "Southern-style") unless you spend (literally) hours making the icing on the stove, but that's certainly not the way we make pastries or desserts. Our frosting forms in less than 15 minutes, so once your cake has cooled, you can pour it on and let it run down the sides until it is covered to your liking.
Tip: caramel can be a little tricky, so think about your options when icing this bad boy. If your frosting is on the thinner side, it will flow well over the surface of the cake; if it's on the thicker side, it may need a little help from you. For those of you who want a cake with a perfectly glassy top, let the frosting settle where it lands and don't touch it. If you prefer a slightly more rustic look, feel free to use a rubber or offset spatula to smooth it out, making sure the sides are evenly coated.
Once you've followed these steps, you'll have a forgiving and decadent cake that will remind you of all the time you spent in the south… and if you haven't been to the south yet and haven't tested this cake yet, you'll be glad you did now and will surely prepare for the next opportunity to do so. Watch carefully, everyone will go crazy for it!
1 hour 30 minutes to prepare the portions 10-12
INGREDIENTS
Cake :
2 1/2 cups of sugar
1 1/2 cups vegetable shortening
1 1/2 cups of whole milk
6 large eggs
1 1/2 teaspoon vanilla extract
3 cups all-purpose flour
1 1/2 teaspoon baking powder
1/4 teaspoon of salt
Icing :
1 cup brown sugar
1 cup of sugar
1/2 cup (1 stick) unsalted butter
1 can of condensed milk
1 teaspoon vanilla extract
1/4 teaspoon sea salt
PLEASE USE THE NEXT PAGE BUTTON  FOR THE INSTRUCTIONS