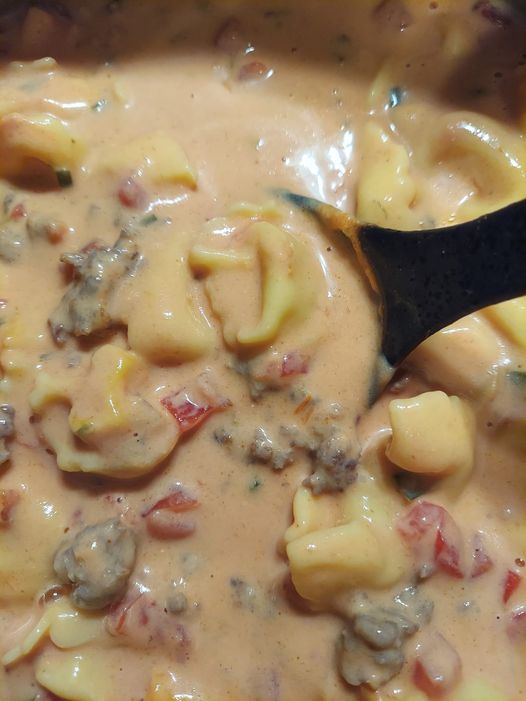 Slow Cooker Tomato Tortellini Soup Recipe
Ingredients:
1 lb Italian sausage (mild or your preference)
1 32 oz container of chicken broth
1 28 oz can of petite diced tomatoes
2 regular cans of tomato soup (like Campbell's)
2 8 oz packages of cream cheese spread with onions and chives
1 package (18 oz) frozen cheese tortellini
Instructions:
Begin by cooking the Italian sausage in a skillet until it's fully cooked and crumbled. Drain any excess fat.
Transfer the cooked sausage to your slow cooker.
Add the chicken broth, petite diced tomatoes, and the cans of tomato soup to the slow cooker. Stir everything together.
Cover the slow cooker and set it to cook on low for 6 to 8 hours. This will allow the flavors to meld together and develop.
About 15 to 30 minutes before serving, add the cream cheese spread with onions and chives to the slow cooker. Cut the cream cheese into chunks to help it melt more easily. Stir until the cream cheese is fully incorporated into the soup.
Shortly before serving, add the frozen cheese tortellini to the soup. Cook until the tortellini is tender and heated through, which usually takes about 15 to 30 minutes.
Taste the soup and adjust the seasoning if necessary. You can add salt, pepper, or other seasonings to taste.
Serve the Tomato Tortellini Soup hot, garnished with fresh herbs or grated Parmesan cheese if desired.
Enjoy your delicious and hearty Tomato Tortellini Soup! It's perfect for a comforting meal during the colder months.