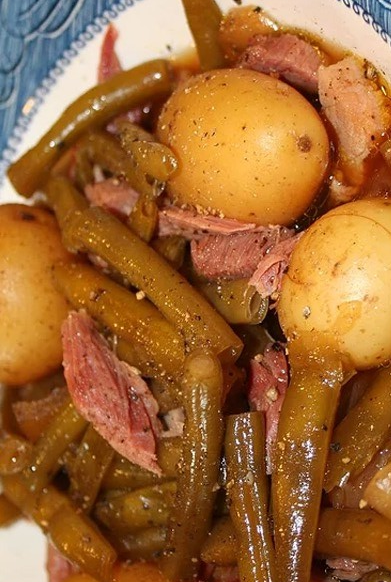 I make this dish often; I have never really measured the ingredients but can give you a reasonable approximation. Note: Freeze leftover cooking liquid, and then add to bean soup, ham, or cabbage dishes, or use to cook dumplings in. It's delicious!
Yummy! We were pleasantly surprised by how good this was! Didn't have ham hocks, so we used about 2 cups of chopped ham steaks instead. Also, double up on the chicken bouillon.
My mother made a variation of this when I was growing up and I've made it for many years myself. However, this is better than she and I made. I could not bring myself to add garlic and I used ham rather than ham hocks.
"I make this dish often; I have never really measured the ingredients, but can give you a reasonable approximation. Note: Freeze leftover cooking liquid, and then add to bean soup, ham or cabbage dishes, or use to cook dumplings in. It's delicious!"
Ingredients
2 pounds fresh green beans, rinsed and trimmed
1 large onion, chopped
3 ham hocks
1 1/2 pounds of new potatoes, quartered
1 teaspoon garlic powder
1 teaspoon onion powder
1 teaspoon seasoning salt
1 tablespoon chicken bouillon granules
ground black pepper to taste
PLEASE USE THE NEXT PAGE BUTTON  FOR THE INSTRUCTIONS