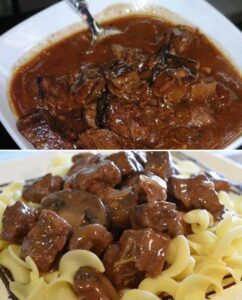 Slow Cooker Beef Tips
Preparation Time: 15 minutes Cooking Time: 5-6 hours on low or 3-4 hours on high Serves: 6-8
Ingredients:
2 tablespoons olive oil
3 pounds stew meat
Salt and pepper, to taste
3 cups beef broth
1 package dry onion soup mix
1 tablespoon Worcestershire sauce
1 small onion, diced
2 cups mushrooms, sliced
3 garlic cloves, minced
1/4 cup water
3 tablespoons cornstarch
Instructions:
1. Sear the Stew Meat:
In a large skillet over medium-high heat, add the olive oil.
Season the stew meat with salt and pepper.
Add the stew meat in batches to the skillet and sear on both sides until browned. Be careful not to cook the meat completely through.
Transfer the seared stew meat to the slow cooker.
2. Combine Ingredients in the Slow Cooker:
In the slow cooker with the stew meat, add the beef broth, dry onion soup mix, Worcestershire sauce, diced onions, sliced mushrooms, and minced garlic.
3. Set the Slow Cooker:
Cook on low for 5-6 hours or on high for 3-4 hours until the meat is tender and flavorful.
4. Thicken the Sauce:
About 30 minutes before the cooking time is complete, mix together the water and cornstarch in a small bowl to create a slurry.
Stir the cornstarch mixture into the slow cooker contents, and allow it to simmer and thicken the sauce.
5. Serve:
Serve the delicious slow cooker beef tips over your choice of pasta or mashed potatoes.
Enjoy this comforting and hearty Slow Cooker Beef Tips dish that's packed with savory flavors and tender meat. It's perfect for a satisfying family meal.