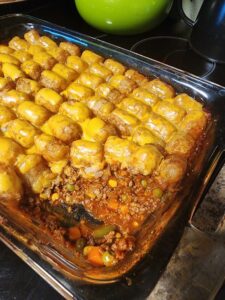 Sloppy Joe Tater Tot Casserole
Preparation Time: 15 minutes Cooking Time: 40 minutes Serves: 6-8
Ingredients:
1 pound ground beef
1 pound pork sausage
1 medium green pepper, diced
1 sweet onion, diced
Salt and pepper, to taste
1 teaspoon garlic powder
2 cans sloppy joe sauce (15-ounce cans or 1 large can)
1 24+ ounce bag of tater tots
1 block of cheddar cheese, shredded
Instructions:
1. Preheat the Oven:
Preheat your oven to 400°F (200°C).
2. Sauté Onions and Peppers:
In a large skillet, sauté the diced green pepper and sweet onion over medium heat until they become tender.
Season with salt, pepper, and garlic powder.
3. Cook the Meats:
Add the ground beef and pork sausage to the skillet with the sautéed onions and peppers.
Cook the meats until they are browned and cooked through. Drain any excess grease.
4. Add Sloppy Joe Sauce:
Pour in the two cans of sloppy joe sauce (or one large can) into the skillet with the cooked meat mixture.
Stir everything together until the sauce is well incorporated.
5. Assemble the Casserole:
Transfer the meat and sauce mixture into a 9×13-inch baking dish.
6. Top with Cheese and Tater Tots:
Sprinkle a layer of shredded cheddar cheese over the meat mixture.
Neatly arrange the tater tots in rows on top of the cheese. This makes for easy cutting and serving.
7. Bake:
Place the casserole in the preheated oven and bake for 30 minutes.
8. Add More Cheese:
After 30 minutes, remove the casserole from the oven and sprinkle another layer of shredded cheese over the top.
9. Continue Baking:
Return the casserole to the oven and bake for an additional 10 minutes or until the tater tots are golden brown and the cheese is bubbly.
10. Rest and Serve:
Allow the casserole

to

sit for

a

few minutes before cutting and serving.

11. Enjoy:
- Serve

this

easy and tasty Sloppy Joe Tater Tot Casserole to your hungry family or guests and enjoy!

This Sloppy Joe Tater Tot Casserole is a hearty and satisfying dish that combines the classic flavors of sloppy joes with the crispy goodness of tater tots. It's a crowd-pleaser and perfect for a comforting dinner.