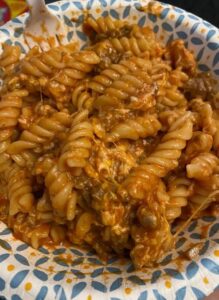 Sloppy Joe Rotini Casserole
Ingredients:
8 ounces rotini noodles (or any pasta of your choice)
1 pound ground beef
1 can of Sloppy Joe sauce
1 cup shredded cheddar cheese
Salt and pepper to taste
Optional toppings: chopped green onions or chopped parsley
Instructions:
Cook the Rotini Noodles: Cook the rotini noodles according to the package instructions until they are al dente. Drain and set aside.
Brown the Ground Beef: In a skillet over medium-high heat, brown the ground beef until it's fully cooked and no longer pink. Season with salt and pepper to taste. Drain any excess fat.
Add Sloppy Joe Sauce: Add the can of Sloppy Joe sauce to the cooked ground beef. Stir well to combine, and let it simmer for a few minutes to heat the sauce and allow the flavors to meld.
Combine Noodles and Sloppy Joe Mixture: In a large mixing bowl, combine the cooked rotini noodles with the Sloppy Joe mixture. Mix until the pasta is evenly coated with the sauce.
Add Cheese: Stir in 1/2 cup of the shredded cheddar cheese into the mixture.
Transfer to a Baking Dish: Preheat your oven to 350°F (175°C). Transfer the mixture to a greased 9×13-inch baking dish and spread it out evenly.
Top with Cheese: Sprinkle the remaining 1/2 cup of shredded cheddar cheese over the top of the casserole.
Bake: Place the casserole in the preheated oven and bake for about 20-25 minutes, or until the cheese is melted and bubbly, and the casserole is heated through.
Serve: Once done, remove it from the oven, let it cool for a few minutes, and optionally top it with chopped green onions or parsley for added flavor and color. Serve your Sloppy Joe Rotini Casserole.
Enjoy this quick and easy meal that combines the flavors of Sloppy Joe with cheesy pasta for a comforting and satisfying dish.