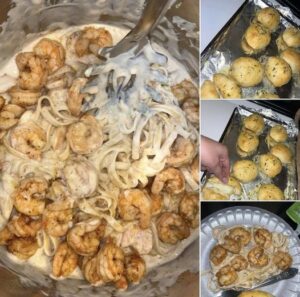 Shrimp Alfredo & Garlic Cheese Bombs: A Seafood Delight with a Cheesy Twist!
Get ready for a culinary delight with our Shrimp Alfredo & Garlic Cheese Bombs. This mouthwatering dish combines succulent shrimp in a creamy Alfredo sauce with a cheesy twist that'll have your taste buds dancing with joy. It's a seafood extravaganza that's sure to impress. Let's dive into the details!
Ingredients:
Noodles – $2.69
Alfredo sauce – $5.00
Shrimp (3 pounds) – $18.00
Pillsbury butter biscuits – $2/3.00
Fresh Mozzarella cheese – $3.00
Garlic butter – $2.28
Instructions:
Shrimp Alfredo: Start by preparing your shrimp Alfredo. Cook the noodles according to the package instructions until they're al dente. In a separate pan, heat up the Alfredo sauce. Add the shrimp to the Alfredo sauce and let them cook until they're pink and opaque. Combine the cooked noodles with the creamy shrimp Alfredo sauce and set it aside.
Garlic Cheese Bombs: For the garlic cheese bombs, take the Pillsbury butter biscuits. Roll out each biscuit into a flat circle. Place a cube of fresh Mozzarella cheese in the center of each circle. Wrap the biscuit dough around the cheese, sealing it well.
Garlic Butter Glaze: In a separate bowl, prepare a garlic butter glaze. Melt the garlic butter and brush it over each cheese-filled biscuit.
Baking: Arrange the garlic cheese bombs on a baking sheet and bake them in a preheated oven according to the instructions on the biscuit packaging, or until they turn golden brown.
Serving: Serve your scrumptious shrimp Alfredo alongside the garlic cheese bombs. The creamy Alfredo sauce pairs perfectly with the cheesy, garlicky bombs.
Enjoy: Now, savor every bite of this delightful dish, combining the rich, savory flavors of shrimp Alfredo with the cheesy explosion of the garlic cheese bombs.
This Shrimp Alfredo & Garlic Cheese Bombs recipe is a delightful blend of creamy and cheesy, making it a showstopper for any occasion. You're in for a treat! 🍤🧀🍽️😋