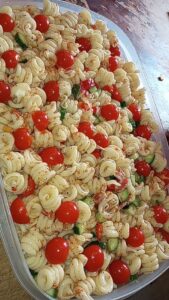 Absolutely! Here's a recipe for the perfect go-to summer pasta salad with your added ingredients:
Ingredients:
8 ounces of your favorite pasta noodles (such as rotini or penne)
6 slices of bacon, cooked and crumbled
1 cup cherry tomatoes, halved
2 mini cucumbers, sliced
1/2 yellow bell pepper, diced
1/2 orange bell pepper, diced
2 tablespoons chopped chives
1/2 cup Zesty Italian dressing
2 tablespoons pasta salad seasoning (adjust to taste)
Salt and pepper to taste
Instructions:
Cook the Pasta:

Cook the pasta noodles according to the package instructions until they are al dente. Drain and rinse them under cold water to cool them down quickly.

Prepare the Ingredients:

While the pasta is cooking, prepare the other ingredients. Cook the bacon, let it cool, and then crumble it. Halve the cherry tomatoes, slice the mini cucumbers, dice the yellow and orange bell peppers, and chop the chives.

Combine Ingredients:

In a large mixing bowl, combine the cooked and cooled pasta, crumbled bacon, halved cherry tomatoes, sliced mini cucumbers, diced yellow and orange bell peppers, and chopped chives.

Dress the Salad:

Drizzle the Zesty Italian dressing over the salad. Start with a small amount and add more to your taste. Toss the salad to ensure everything is well coated.

Season and Serve:

Sprinkle the pasta salad seasoning over the top of the salad and season with salt and pepper to taste. Toss again to distribute the seasonings evenly.

Chill and Enjoy:

Cover the pasta salad and refrigerate for at least an hour to let the flavors meld together. Before serving, give it a final toss and adjust the seasonings if needed.

Serve:

Serve your delicious summer pasta salad as a refreshing side dish or even as a main course.
This pasta salad is not only simple and cheap but also bursting with fresh flavors, making it the perfect addition to your summer menu. Enjoy! 🍽️🌞