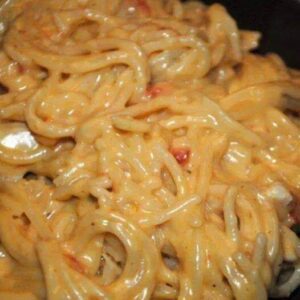 Mexican Chicken Spaghetti
Ingredients:
1 lb boneless, skinless chicken breasts
1 lb Velveeta cheese (regular or Mexican)
1 can of Rotel tomatoes (regular or hot)
1 lb spaghetti pasta
1 stick of butter
1 can of cream of chicken soup (undiluted)
1 can of cream of mushroom soup (undiluted)
1 medium onion, chopped
1 bell pepper (red or green), chopped
Salt and pepper to taste
Instructions:
In a large pot, boil the chicken breasts with 1/2 tsp of salt and 1/2 tsp of black pepper added to the water.
Cook the chicken for approximately 10 to 12 minutes until done, then remove it from the pot.
Cook the spaghetti pasta in the remaining broth according to the package directions. Once done, drain the pasta and discard the water. Do not rinse the pasta, and set it aside.
In the same pot, melt the butter and saute the onion and bell pepper.
Add the tomatoes, soups, cooked chicken (cut into bite-sized pieces), and spaghetti to the sauteed onion mixture, one at a time, and gently mix together.
Stir in the cheese and add salt and pepper to taste.
Heat the mixture until the cheese is fully melted, stirring occasionally to prevent scorching.
Serving suggestions: Top with freshly grated Parmesan cheese and serve with a salad and hot garlic bread. Enjoy!