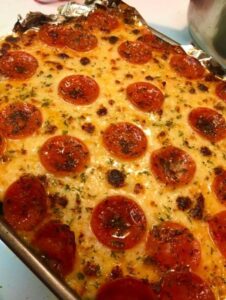 Indulge in the ultimate party appetizer with this irresistible Italian Pizza Dip! Perfect for gatherings or game day, this cheesy and flavorful dip captures the essence of a classic pizza in every scoop. The creamy base, infused with Italian seasoning, serves as a canvas for layers of savory goodness, including browned Italian sausage, gooey mozzarella, sharp Parmesan, and zesty pepperoni. Baked to golden perfection, this dip is a crowd-pleaser that pairs wonderfully with crusty bread, chips, garlic bread, or any dippable delight of your choice. Get ready to elevate your snack game with this easy and delectable Italian Pizza Dip!
Ingredients:
8 oz block of cream cheese, softened
Italian seasoning
8 oz mozzarella, shredded
8 oz Parmesan cheese, shredded
Ground Italian sausage, browned and drained (optional)
Pepperoni
16 oz pizza sauce
Instructions:
Preheat the Oven:

Preheat your oven to 375°F (190°C).

Prepare the Cream Cheese Base:

In a mixing bowl, combine the softened cream cheese with 1 teaspoon of Italian seasoning. Mix until well incorporated.

Press into Casserole Dish:

Press the cream cheese mixture evenly into the bottom of a casserole dish, creating a smooth base.

Combine Cooked Sausage with Pizza Sauce:

If using browned Italian sausage, mix it with the pizza sauce in a separate bowl, ensuring the sausage is evenly distributed.

Layer the Pizza Sauce Mixture:

Pour the sausage-infused pizza sauce over the cream cheese base, spreading it evenly.

Top with Cheeses and Pepperoni:

Sprinkle the shredded mozzarella and Parmesan cheeses over the pizza sauce mixture. Add a layer of pepperoni on top for that classic pizza flavor.

Bake Until Golden Brown:

Bake in the preheated oven until the dip is golden brown and bubbly. This typically takes around 20-25 minutes.

Allow to Cool:

Once out of the oven, allow the Italian Pizza Dip to cool for 5-10 minutes. This helps the flavors to meld and the dip to set.

Serve with Your Favorite Dippers:

Grab crusty bread, chips, garlic bread, or your preferred dipping vessel of choice to scoop and savor the deliciousness of this Italian-inspired pizza dip.
Whether you're hosting a party or enjoying a cozy night in, this Italian Pizza Dip is sure to be a hit. It combines the beloved flavors of pizza in a shareable, dip-able form that will have everyone coming back for more. Enjoy!
Popular questions and their answers related to Italian Pizza Dip
Q1: Can I make this Italian Pizza Dip ahead of time for a party?
A: Yes, you can prepare the Italian Pizza Dip ahead of time by assembling it up to the baking step. Cover the casserole dish and refrigerate. When ready to serve, bake it in the preheated oven until golden brown and bubbly.
---
Q2: Can I customize the toppings in this pizza dip?
A: Absolutely! Feel free to get creative with the toppings. Add your favorite pizza ingredients such as olives, bell peppers, onions, or even different types of cheese to personalize the dip to your liking.
---
Q3: What are the best dippers for this Italian Pizza Dip?
A: This dip pairs well with a variety of dippers. Crusty bread, tortilla chips, garlic bread, or even vegetable sticks are excellent choices. Choose your favorite or offer an assortment for guests to enjoy.
---
Q4: Is the Italian seasoning necessary for the cream cheese base?
A: The Italian seasoning adds flavor to the cream cheese base, giving it a pizza-inspired taste. However, if you prefer a different seasoning or want a simpler flavor, feel free to adjust or omit the Italian seasoning based on your taste preferences.
---
Q5: Can I make a vegetarian version of this pizza dip?
A: Certainly! Skip the Italian sausage or use a plant-based alternative to make a delicious vegetarian version. Load up on your favorite veggies and cheeses for a flavorful, meat-free option.
---
Q6: How do I store leftovers?
A: If you have leftovers, store them in an airtight container in the refrigerator. Reheat in the oven or microwave when ready to enjoy again.
---
Q7: Can I use store-bought pizza sauce or make my own?
A: You can use either store-bought pizza sauce or make your own, depending on your preference and time constraints. A good-quality store-bought sauce works well, but if you enjoy homemade flavors, making your own sauce is a great option.
---
Q8: Can I make a smaller or larger batch of this pizza dip?
A: Yes, you can adjust the quantities based on your needs. For a smaller batch, halve the ingredients, and for a larger gathering, double or triple the recipe accordingly.
---
Q9: Can I freeze the Italian Pizza Dip?
A: Freezing is not recommended, as dairy-based dips like this one may undergo texture changes when frozen and thawed. It's best enjoyed fresh or stored in the refrigerator for short-term leftovers.
---
Q10: What type of mozzarella is best for this pizza dip?
A: Shredded whole milk mozzarella or part-skim mozzarella both work well. Choose the type that suits your taste preferences for a creamy and gooey texture.