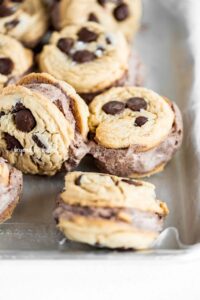 HOW TO MAKE HOMEMADE ICE CREAM COOKIE SANDWICHES
CHOCOLATE CHIP COOKIES
These are really easy to make! For starters, for chocolate chip cookies, you can use my super moist chocolate chip cookie recipe. I've also noted some other cookie recipes below that you can use instead, if you like.
You can make these cookies ahead of time and store them in an airtight container until it's time to add the ice cream, which will take a while to set.
CHOCOLATE ICE CREAM WITHOUT THE CHURN
For the ice cream part, I made this creamy, homemade, churn-free chocolate ice cream that is amazing! It's made with just a few ingredients: heavy cream, cold sweetened condensed milk, vanilla extract and melted chocolate. It can be made very quickly, but the hardest part is being patient because it has to stay firm for at least 6 hours or overnight.
And if making homemade ice cream isn't your thing, you can easily use store-bought ice cream!
ICE CREAM SANDWICHES
Once the ice cream has been made and is firm, you're ready to put it all together! I placed 1 scoop (about ¼ cup) on the flat side of the cookie, then topped it with the second cookie of similar size.