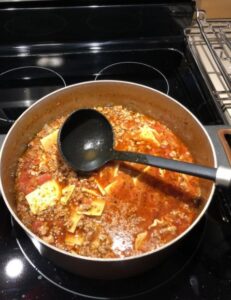 Hearty Lasagna Soup
Experience the flavors of a classic Italian lasagna in the form of a comforting and hearty soup with our Hearty Lasagna Soup recipe. With a blend of hamburger meat, sweet Italian sausage, a variety of tomatoes, Italian seasoning, and lasagna noodles, this soup is a satisfying twist on the traditional lasagna dish. Let's dive into this easy-to-follow recipe that'll fill your home with the enticing aroma of Italian cooking.
Ingredients:
1 lb hamburger meat
1 lb sweet Italian sausage
1/2 onion
1-2 tablespoons minced garlic
1 box beef broth
1 can (28 oz) crushed tomatoes
1 can (14 oz) petite tomatoes
1 cup water
Italian seasoning, salt, and pepper to taste
10-12 lasagna noodles, broken into pieces
Instructions:
In a large pot or Dutch oven, brown the hamburger meat and sweet Italian sausage together. Once cooked, drain off excess grease, leaving just a bit for flavor.
Add diced onion and minced garlic to the meat mixture. Cook for a few minutes until the onions become translucent.
Stir in the beef broth, crushed tomatoes, petite tomatoes, and water. Season with Italian seasoning, salt, and pepper according to your preference. Allow the soup to simmer for 30 minutes to 1 hour to let the flavors meld.
Break the lasagna noodles into pieces and add them to the simmering soup. Cook for an additional 6-8 minutes, or until the noodles reach your desired level of doneness.
Serve the Hearty Lasagna Soup hot and topped with a generous amount of mozzarella and ricotta cheese. The result is a perfect blend of cheesy, saucy, and noodle-filled goodness.
This Hearty Lasagna Soup captures all the flavors of a traditional lasagna in a convenient, spoonable form. It's perfect for warming up on a chilly evening or any time you're craving classic Italian comfort food. 🍲🇮🇹🧀