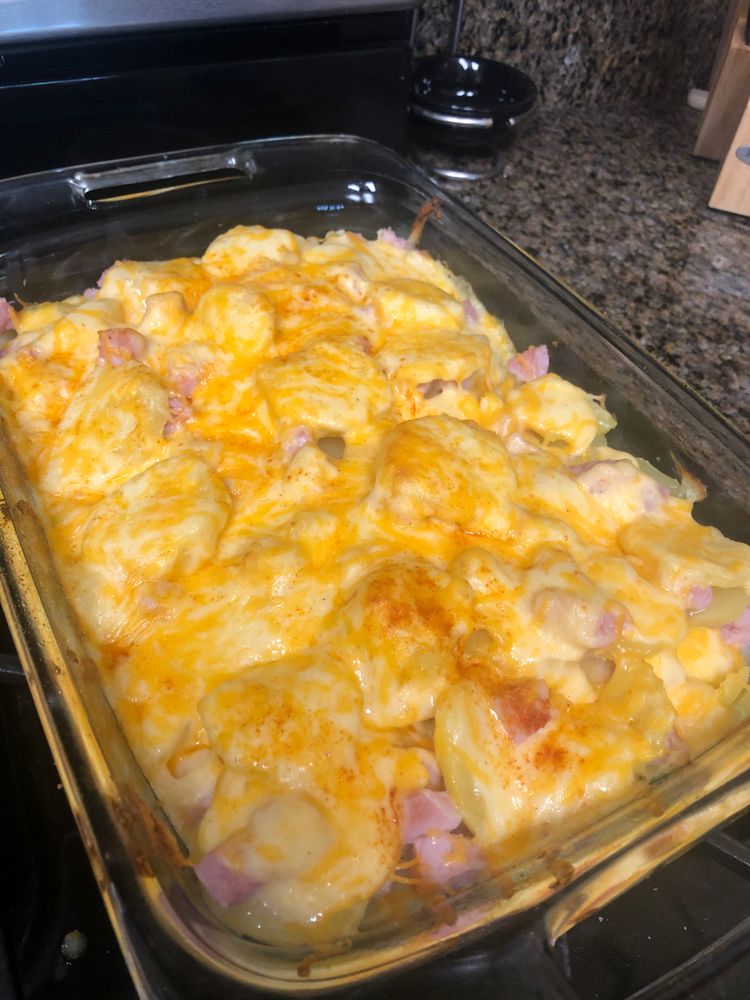 This is one of my favorite pots and pans that I have created over the years. It is a delicious potato and ham and cheese stew, creamy, with a filling of crispy, buttered corn flakes. It's a great recipe to make the most of your leftover Easter ham! We love it and I'm sure you'll love it too.
Cooking Time: 1 hr 30 min Preparation Time: 45 min Serves: 10
Ingredients :
1 can of cream of chicken soup
1 box of mushroom cream
1 can of milk (whole or 2% measured in a soup can)
1/4 teaspoon seasoned salt
1/8 teaspoon ground black pepper
6 medium potatoes, raw Idaho, russet, Yukon gold, etc…
3-4 c of chopped smoked ham
1/4 c finely chopped onion (optional)
1 c grated extra-strong white cheddar cheese
1 tsp grated cheddar cheese (yellow)
2 1/2 c crushed cornflakes
4 tablespoons salted butter, melted
Directions
1. Prepare and assemble all ingredients.
2. Butter, or lightly coat with cooking oil spray, a saucepan 9″x13″; set aside.
3. In a large bowl, using a large spoon, combine the two soups.
4. Gradually add a can of milk.
5. Add seasoned salt and pepper; mix well; set aside.
6. Peel the potatoes and cut four of them into thin slices in a food processor or with a mandolin; add them immediately to the soup mixture and mix well.
7. Change the blade of the food processor to a grater/shredder (or use a cardboard grater); shred the remaining two potatoes; add them immediately to the soup mixture and mix well.
8. Add the chopped ham and onion (if using) and mix well.
9. Place the oven rack in the middle position and preheat the oven to 350º F.
10. Pour the mixture into the prepared baking dish and smooth.
11. Spread both cheeses evenly on top; set aside.
12. In a medium bowl, combine crushed corn flakes and melted butter to coat.
13. Sprinkle cornflakes over the cheese layer.
14. Bake at 350º F for 1.5 hours, turning the dish over once after 45 minutes.
15. Remove from the oven and let stand for 5 minutes before serving.
16. Cover and refrigerate leftovers.