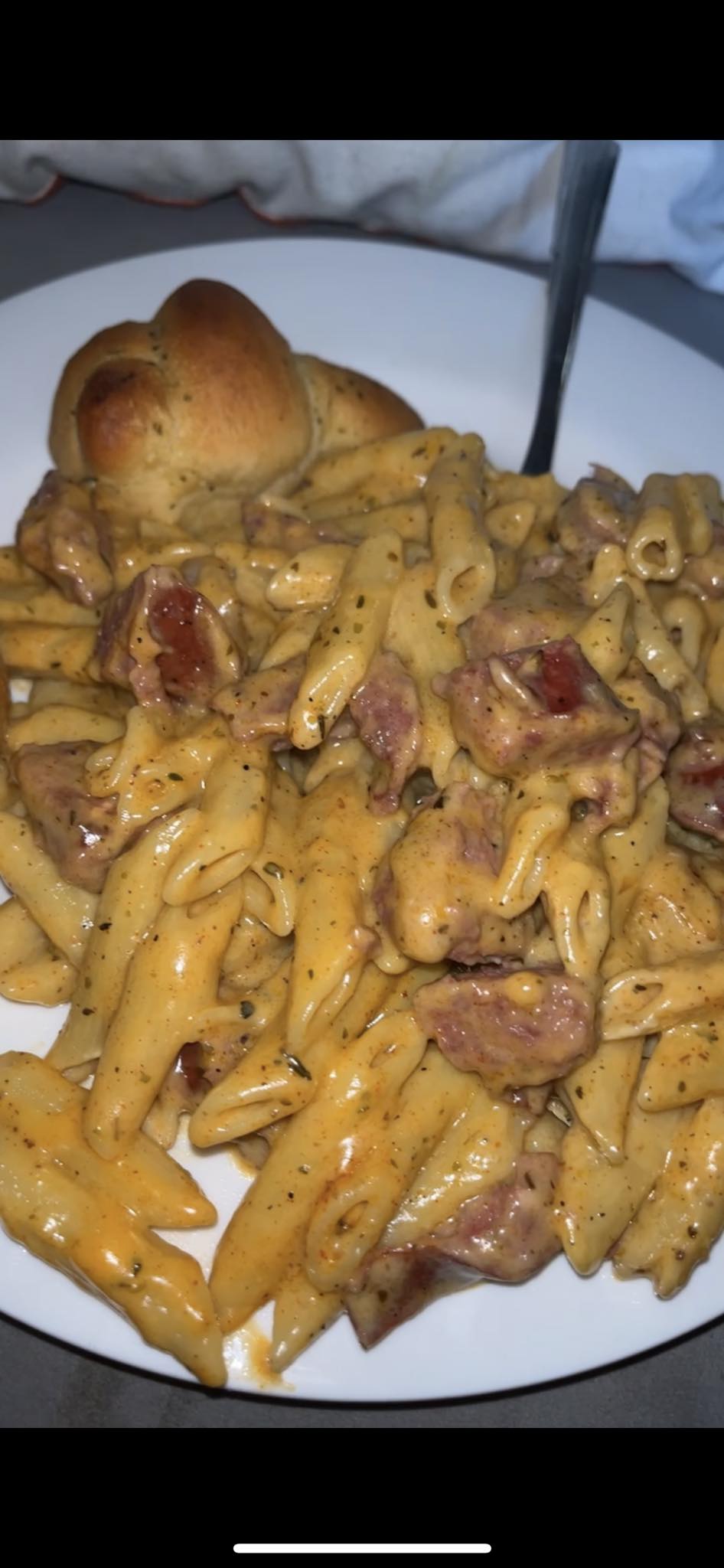 Garlic Knots with Cheesy Chicken Sausage Alfredo Recipe
Preparation Time: 15 minutes Cooking Time: 25 minutes Serves: 4
Ingredients:
For Garlic Knots:
1 pound pizza dough (store-bought or homemade)
2 tablespoons unsalted butter, melted
3 cloves garlic, minced
1 tablespoon fresh parsley, chopped (optional)
Salt, to taste
For Cheesy Chicken Sausage Alfredo:
12 ounces penne pasta (or your choice of pasta)
2 Zummo sausages (or any sausage of your choice), sliced
2 boneless chicken breasts, diced
1 cup shrimp, peeled and deveined (optional)
1 jar (about 15 ounces) four cheese Alfredo sauce
Salt and pepper, to taste
1/4 cup grated Parmesan cheese (optional)
Fresh parsley, for garnish (optional)
Instructions:
1. Preheat the Oven:
Preheat your oven to the temperature recommended on the pizza dough package (usually around 375°F or 190°C).
2. Prepare Garlic Knots:
Roll out the pizza dough into a large rectangle or circle on a lightly floured surface.
Cut the dough into strips, then tie each strip into a knot.
Place the garlic knots on a baking sheet lined with parchment paper.
3. Bake Garlic Knots:
Bake the garlic knots in the preheated oven according to the package instructions for the pizza dough, or until they are golden brown.
While the knots are baking, prepare the Alfredo sauce and pasta.
4. Cook Pasta:
Cook the penne pasta according to the package instructions until al dente. Drain and set aside.
5. Prepare Alfredo Sauce:
In a large skillet, heat a bit of olive oil over medium heat.
Add the sliced sausages and diced chicken breasts. Cook until they are browned and cooked through.
If using shrimp, add them to the skillet and cook until they turn pink and opaque.
Pour in the four cheese Alfredo sauce and stir to combine. Cook until the sauce is heated through.
6. Combine Pasta and Sauce:
Add the cooked penne pasta to the skillet with the Alfredo sauce. Toss everything together until the pasta is well-coated with the sauce.
7. Finish Garlic Knots:
In a small bowl, mix the melted butter, minced garlic, chopped parsley (if using), and a pinch of salt.
As soon as the garlic knots come out of the oven, brush them with the garlic butter mixture while they are still hot.
8. Serve:
Serve the Cheesy Chicken Sausage Alfredo over the prepared penne pasta.
Optionally, garnish with grated Parmesan cheese and fresh parsley.
9. Enjoy Your Delicious Garlic Knots with Cheesy Chicken Sausage Alfredo!
This meal is sure to satisfy your craving for a rich and flavorful Alfredo pasta with a side of garlic knots. Enjoy your homemade Italian feast!