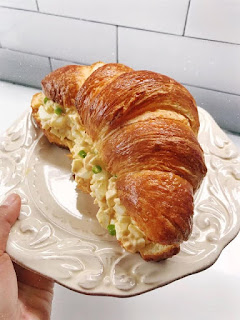 Cream cheese, celery, and croissants, this classic egg salad will get an update! The SUPER DELICIOUS and SO SIMPLE to prepare is this special egg salad sandwich!
I recall being a child and finding that hard-boiled eggs, in an egg salad or otherwise are super disgusting. I couldn't understand why, much less for breakfast or even a snack, someone would want to eat them.
ELUXE EGG SALAD – looking for an upgrade on the traditional egg salad? try this deluxe egg salad! it includes cream cheese, grated onions and is by far my favorite version of egg salad
Ingredients
2 Tablespoons butter, room temperature
3 oz cream cheese, room temperature
2 Tablespoons celery, minced
1 Tablespoon Mayo (or more if desired)
1 teaspoon onion, grated
1 teaspoon sugar
1/2 teaspoon lemon juice
1/4 teaspoon salt
1/8 teaspoon pepper
6 hard boiled eggs, finely chopped or squished with a fork.
Croissants or Bread
Paprika (optional)
Dill Pickle Relish (optional)
Chicken (optional)
Instructions
In a medium bowl, cream together butter and cream cheese until smooth.
Stir in celery, mayo, onion, sugar, lemon juice, salt and pepper until well blended.
Add eggs and mix well.
Cover and chill for 1 hour or longer.
Serve on bread or croissants.
Sprinkle with paprika or add dill pickle relish or bacon if desired.
Enjoy!!!