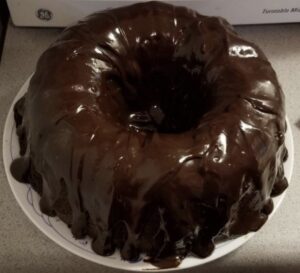 Decadent Chocolate Cake and Brownie Bundt with Ganache
Mini Presentation: Satisfy your chocolate cravings with our decadent Chocolate Cake and Brownie Bundt drizzled with a luscious ganache. This rich, indulgent dessert combines the best of two worlds – moist chocolate cake and fudgy brownies – in a stunning bundt shape. The velvety ganache topping takes it to the next level.
Ingredients for Cake:
1 box of chocolate cake mix
1 box of fudge brownie mix
4 eggs
1 1/4 cups of water
1 cup of oil
Ingredients for Ganache:
1 cup of heavy whipping cream
1 12-ounce bag of semi-sweet chocolate chips
Directions:
Preheat Oven: Preheat your oven to 350°F (175°C).
Prepare the Pan: Spray a bundt pan with cooking spray to ensure your cake doesn't stick.
Cake Batter: In a large mixing bowl, combine the chocolate cake mix, fudge brownie mix, eggs, water, and oil. Mix until you have a smooth, well-combined batter.
Baking: Pour the cake batter into the prepared bundt pan. Bake for 50-55 minutes or until a toothpick inserted into the cake comes out clean.
Cooling: Once the cake is done, allow it to cool in the pan for about 5 minutes before carefully removing it.
Ganache: In a microwave-safe bowl, heat the heavy whipping cream until it's just about to boil. Remove it from the microwave and pour it over the semi-sweet chocolate chips. Let this sit for 5 minutes to allow the chocolate to melt. Then whisk the mixture together until you have a velvety ganache.
Drizzle Ganache: Pour the ganache over your cooled cake. You can also add extra ganache to the center of the cake for an extra chocolatey surprise.
Most Popular Questions and Answers:
Can I use other cake and brownie mixes?

Yes, you can use different brands or types of cake and brownie mixes based on your preferences.

How do I prevent my cake from sticking to the bundt pan?

It's essential to thoroughly spray the bundt pan with cooking spray or even lightly grease it with butter to ensure easy removal.

What can I do if I don't have a bundt pan?

If you don't have a bundt pan, you can use a regular cake pan or a rectangular baking dish. Adjust the baking time as needed.

How should I store the cake?

To keep your cake fresh, cover it and store it at room temperature for a day or two. If you need to store it longer, refrigerate it, but let it come to room temperature before serving for the best texture.

Can I make the ganache in advance?

Yes, you can prepare the ganache a day ahead and reheat it slightly before drizzling it over the cake. Make sure it's still pourable but not too hot.
Indulge in the ultimate chocolate lover's dream with this Chocolate Cake and Brownie Bundt, perfect for any special occasion or simply as a delightful treat for your sweet tooth! 🍫🍰🎉