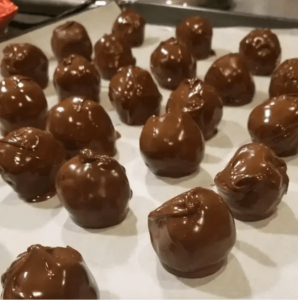 Ingredients:
1 cup (250 grams) creamy peanut butter
6 tablespoons (85 grams) of unsalted butter softened to room temperature
2 cups (240 grams) of powdered sugar
1/2 teaspoon pure vanilla extract
1/8 teaspoon salt
12 ounces semi-sweet chocolate chopped
Instructions:
-Line a large baking sheet with parchment paper. Set aside.
-In a large mixing bowl, using a handheld mixer, beat the peanut butter and butter together until well combined.
-Add the powdered sugar, vanilla extract, and salt and mix until fully combined, stopping to scrape down the sides of the bowl as needed.
-Using a one tablespoon measuring spoon or cookie scoop, scoop the peanut butter mixture, roll into balls, and place on the prepared baking sheet.
-Transfer the baking sheet with the peanut butter balls to the freezer for 20 minutes.
-Place the chopped chocolate in a medium-sized microwave-safe bowl.
-Microwave in 20-30 second increments, stirring well after each increment, until completely melted and smooth.
-Remove the baking sheet with the peanut butter balls from the freezer.
-Dip each peanut butter ball in the melted chocolate, then return to the baking sheet.
-Once all of the peanut butter balls are coated in the chocolate, transfer the baking sheet to the refrigerator for 45 minutes to 1 hour or until the chocolate is hardened.
IF YOU LIKE THIS RECIPE…YOU MAY ALSO LIKE:
Chocolate Peanut Butter Marie Biscuit Sandwiches