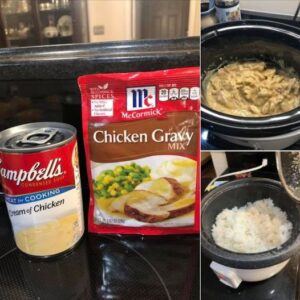 Introducing a family-friendly favorite that's not only super easy but also incredibly comforting—Creamy Chicken Gravy Delight. This recipe is a lifesaver for busy days, offering a hearty and delicious meal with minimal effort. With the rich combination of cream of chicken soup, chicken gravy mix, and tender chicken breasts, this dish brings warmth and satisfaction to the table. Serve it over rice or egg noodles for a complete and delightful dining experience.
Ingredients:
3-4 chicken breasts
3 cans cream of chicken soup
2 cups water
1 packet chicken gravy mix
Rice or egg noodles (for serving)
Instructions:
Prepare the Gravy Base:

In a bowl, mix 3 cans of cream of chicken soup with 2 cups of water.
Stir in one packet of chicken gravy mix until well combined.

Crockpot Magic:

Place uncooked chicken breasts in the crockpot.
Pour the prepared gravy mixture over the chicken.

Slow Cook to Perfection:

Set the crockpot to low and let it cook for 2 1/2 hours.
The chicken will cook in the flavorful gravy, absorbing all the deliciousness.

Dice or Shred the Chicken:

Once cooked, take the chicken out and either dice it up or shred it based on your preference.

Return to Gravy:

Put the diced or shredded chicken back into the luscious gravy, ensuring it's well coated.

Serve Over Rice or Egg Noodles:

Spoon the creamy chicken and gravy over a bed of rice or egg noodles.

Enjoy the Delight:

Dive into a comforting bowl of Creamy Chicken Gravy Delight, savoring the rich flavors and tender chicken.
Pro Tips:
Add a sprinkle of fresh parsley or chives for a burst of color and freshness.
Experiment with different types of noodles or grains for a varied dining experience.
This recipe is a testament to the fact that simple ingredients can create extraordinary flavors. Creamy, hearty, and loved by both kids and adults, the Creamy Chicken Gravy Delight is sure to become a regular on your family's menu. Enjoy the ease and deliciousness of this comforting dish!