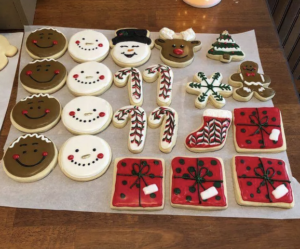 Christmas is like tasty sugar cookies. With a taste of home and memories of grandmothers with aprons, today we will learn how to prepare these delicacies to give them a special Christmas touch, using the traditional red and green colors. Let's bake!
Ingredients to make sugar cookies for Christmas
To prepare 4 dozen of these delicious cookies you will need:

1 and 1/2 cups of butter to soft peaks (very soft).

2 cups of white sugar

4 whole eggs

5 cups of plain flour

2 teaspoons baking powder

1 teaspoon salt

A little vanilla essence (or the flavor of your choice, always in colorless essences or soft tones)

Red and green vegetable coloring for gastronomic use.
As for the materials, you will need a large bowl, a wooden spoon, two clean plastic bags or two containers with lids, a sieve, a rolling pin, cookie cutters or knives, a clean, flat baking sheet, and the oven.
How to prepare the Christmas cookies
Prepare the base dough by placing the butter and sugar in a bowl. Mix until well dissolved and a smooth dough is formed. Add the eggs, one at a time, and the vanilla essence. Mix well.

Mix the baking powder and salt into the flour and add a little at a time, passing it through a sieve to avoid lumps. Knead with a spoon or with cold hands until a firm dough is formed.

Divide the dough into two piles, and add the green coloring to one and red to the other. Place in the containers and place in the refrigerator for a few hours, until the butter cools and the dough hardens a little. (source: ineskohl.info)

When the doughs are at a point that allows it, flour the counter with a little flour and stretch the buns of each color to make them even, of the same height and size. To assemble the cookies, you can overlap both stretched doughs and press with your hands, to integrate and form red cookies on one side and green on the other, or else roll the overlapping doughs to make a very striking red and green spiral, cutting slices of this roll.

Place them a little apart on a clean baking sheet, and bake in a preheated oven at 200°C for 6 to 8 minutes, until they are slightly puffed and barely browned at the base. Once cooked, remove and let them cool on the plate before unmoulding, so they don't fall apart.

To decorate these Christmas cookies, prepare a classic glassé in the color of your choice and make the special decorations. Remember that you can adapt this recipe to other times of the year, creating dough in the colors of your choice.
How to make Christmas cookies
Different recipes for making Christmas cookies
Christmas cookies are tasty, appetizing, and not only a great company for mate afternoons and coffee tables, but they can also be a great gift to give to our loved ones at Christmas.