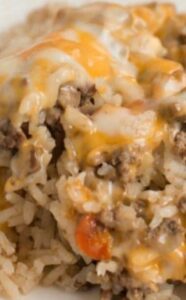 Ingredients:
2 pounds ground beef
2 cans of your choice (cream of mushroom, cream of celery, or cream of chicken)
2 cups long-grain rice
2 cups water
Shredded cheese (optional, for topping)
Salt and pepper, to taste
Buttered toast or garlic bread (for serving)
Instructions:
Preheat the Oven: Preheat your oven to 350°F (175°C).
Brown the Ground Beef: In a large skillet, cook the ground beef over medium heat until it's browned. You can drain the excess grease if desired.
Prepare the Casserole Mixture: In a large mixing bowl, combine the cans of your choice (cream of mushroom, celery, or chicken soup) with the rice and water. Mix them together until well combined.
Add the Cooked Ground Beef: Once the ground beef is cooked, add it to the mixture in the bowl. Stir to combine all the ingredients.
Transfer to a Baking Dish: Pour the mixture into a 9×13-inch baking dish, spreading it out evenly.
Bake in the Oven: Cover the baking dish with foil and place it in the preheated oven. The traditional recipe suggests cooking for 90 minutes, but you can check it after 45-60 minutes. The casserole should be ready when the rice is fully cooked and the top is set.
Optional Cheese Topping: If desired, you can sprinkle shredded cheese over the top of the casserole during the last 10 minutes of baking, or until the cheese is melted and bubbly.
Serve: Once the casserole is done, remove it from the oven. Allow it to cool for a few minutes, and then serve with buttered toast or garlic bread. Season with salt and pepper to your liking.
Additional Tips:
You can customize this casserole by adding vegetables like carrots or celery chunks, as suggested in the recipe.
For extra flavor, consider adding some garlic powder, onion powder, or herbs like thyme or parsley to the mixture.
This Cheesy Ground Beef & Rice Casserole is a comforting and filling dish that's perfect for a family dinner. Enjoy!