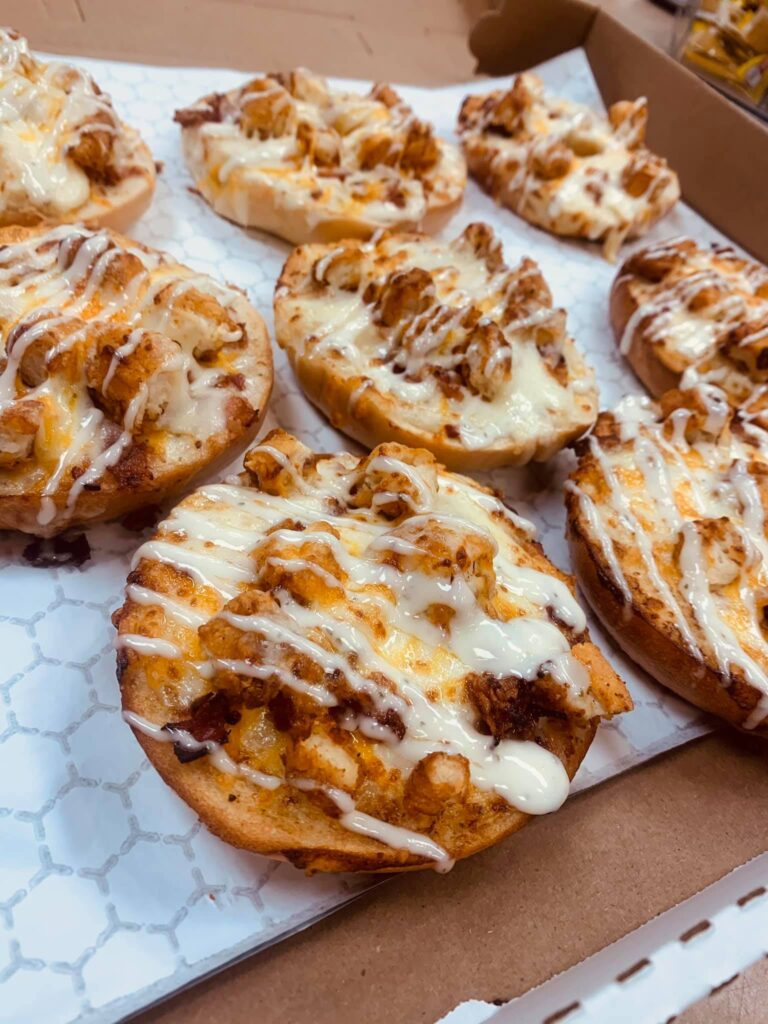 Here's a simple recipe for Buffalo Chicken Bagels:
Ingredients:
Bagels (as many as needed)
Garlic butter
Chicken tenders
Buffalo sauce
Shredded cheddar cheese
Shredded mozzarella cheese
Ranch dressing (for drizzling)
Instructions:
Preheat your oven to 375°F (190°C).
Split the bagels in half and spread garlic butter on each half.
Cook the chicken tenders in the oven according to the package instructions. Once they are cooked, remove them from the oven and toss them in Buffalo sauce to coat them evenly. You can adjust the amount of Buffalo sauce to your desired level of spiciness.
Dice the Buffalo-coated chicken tenders into small pieces.
Place the prepared bagels on a baking sheet.
Sprinkle shredded cheddar and mozzarella cheese over the garlic-buttered bagels.
Top the cheesy bagels with the diced Buffalo chicken.
Bake in the preheated oven for about 5 minutes, or until the cheese is melted and bubbly.
Remove the Buffalo Chicken Bagels from the oven and drizzle ranch dressing over the top.
Serve your delicious Buffalo Chicken Bagels immediately.
These bagels are a delightful combination of flavors with a bit of heat from the Buffalo sauce, creaminess from the cheese, and the coolness of ranch dressing. Enjoy!