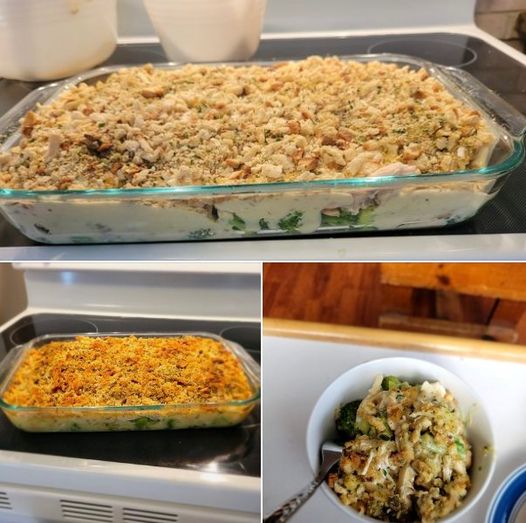 Certainly! Here's a budget-friendly and delicious recipe for Broccoli and Chicken Casserole:
Ingredients:
2 bags of broccoli florets
2 cans of cream of chicken soup
1 small can of chicken stock (approximately 10.5 ounces)
2/3 cup of mayonnaise
Shredded cheese (about 1 cup or to taste)
Stovetop Savory Herbs stuffing mix
Shredded chicken (you can use a whole rotisserie chicken)
1/2 stick of butter
Instructions:
Preheat the Oven:

Preheat your oven to 350°F (175°C).

Prepare the Broccoli and Chicken:

Steam or boil the broccoli florets until they are slightly tender, then drain them.

Prepare the Casserole Mixture:

In a large mixing bowl, combine the cream of chicken soup, chicken stock, and mayonnaise. Mix them until well combined.

Add Shredded Cheese:

Stir in the shredded cheese into the mixture. You can adjust the amount of cheese based on your preference.

Prepare the Stuffing Mix:

Prepare the Stovetop Savory Herbs stuffing mix according to the package instructions.

Layer the Casserole:

In a large baking dish, layer the partially cooked broccoli florets.
Add the shredded chicken on top of the broccoli.

Pour the Casserole Mixture:

Pour the cream of chicken, chicken stock, mayonnaise, and cheese mixture over the broccoli and chicken.

Top with Stuffing and Butter:

Sprinkle the prepared stuffing mix evenly over the top of the casserole.
Place small pieces of butter on top of the stuffing.

Bake:

Cover the baking dish with foil and bake in the preheated oven for 30 minutes.

Uncover and Finish Baking:

After 30 minutes, remove the foil and continue baking for an additional 15 minutes or until the top is golden brown and the casserole is bubbling.

Serve:

Allow the casserole to cool for a few minutes before serving.
This budget-friendly broccoli and chicken casserole is both creamy and satisfying. It's a great option for a delicious family dinner without breaking the bank. Enjoy