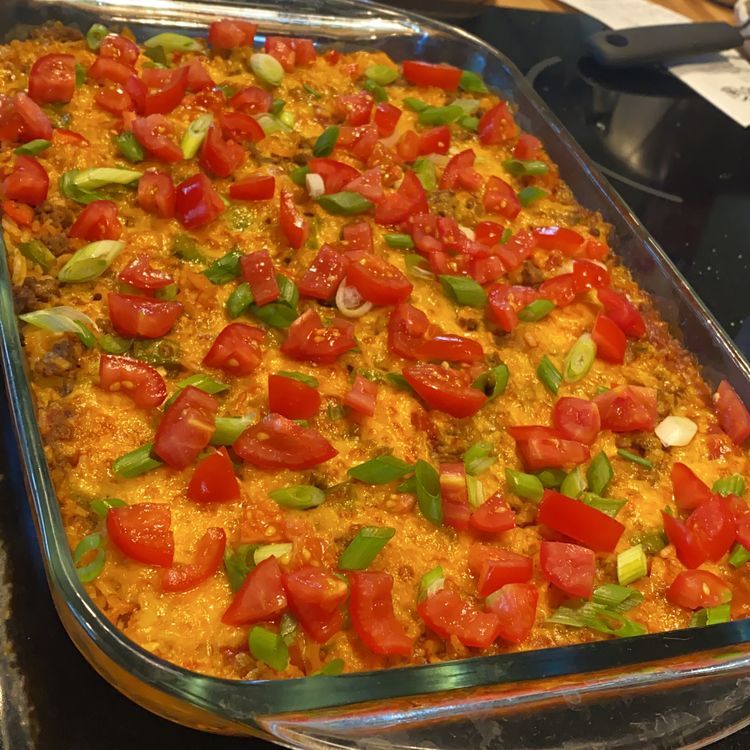 INGREDIENTS
1 lb ground beef
1 onion diced
2 cloves garlic minced
1 pkg taco seasoning
⅓ c water
3 bell peppers any colour, diced
14 oz. diced tomato with juice
8 oz. tomato sauce
2 c instant rice (Minute Rice)
1 ⅔ c beef broth
1 c cheddar cheese
INSTRUCTIONS
Step 1: Prepare the oven. Preheat it to 375 degrees F.
Step 2: In a skillet, cook the ground beef, onion, and garlic over medium heat until browned. When done, drain excess grease.
Step 3: Add the taco seasoning into the skillet and add in the water and peppers. Stir well and simmer for about 3 to 5 minutes or until most of the water has evaporated.
Step 4: In a 9 x 13-inch pan, combine the rest of the ingredients except the cheese. Bake in the preheated oven for about 30 to 35 minutes, covered or until the rice is tender.
Step 5: Remove the cover and sprinkle the cheese over. Broil for a minute or two or until the cheese has melted.
Step 6: When done, let the casserole sit for at least 5 minutes before serving.