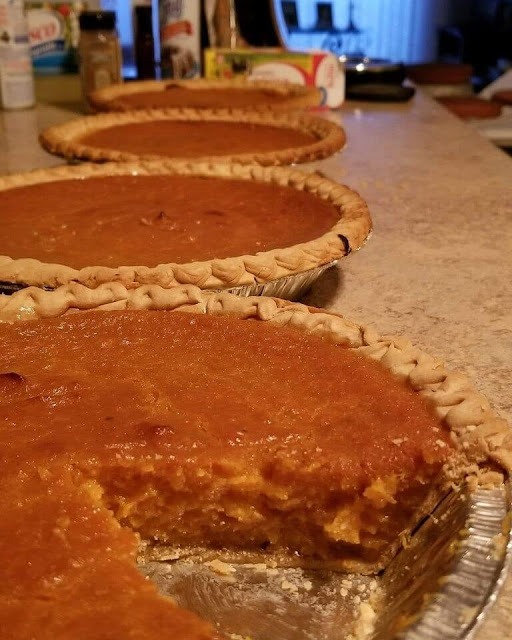 There's nothing like a freshly baked sweet potato pie to usher in the holiday season. The autumnal dessert just tastes like home, doesn't it? This top-rated sweet potato pie recipe, which is subtly spiced with ingredients you probably already have on hand, has been beloved for decades.
Learn how to make, store, freeze, and serve the best sweet potato pie of your life with this favorite recipe.
Sweet Potato Pie Ingredients
If you have fresh sweet potatoes and a few kitchen staples, you likely have everything you need to make this homemade sweet potato pie.
Sweet Potato
This recipe calls for a pound of whole sweet potatoes. Fresh produce will give you the deepest, richest flavor. If you're in a rush, you can substitute canned sweet potatoes (just be sure to drain them first).
Butter
Like so many baked goods, butter is essential to sweet potato pie. It adds moisture, flavor, and texture to the custard filling.
Sugar
Obviously, granulated sugar adds sweetness. It also helps keep the pie filling soft by locking in moisture.
Milk
Whole milk serves as the liquid base that's essential for dissolving the dry ingredients and creating a cohesive filling. It also adds creamy flavor and texture.
Eggs
Traditional sweet potato pie has a custard filling, which means the filling relies on eggs (particularly the yolks) to bind the ingredients together. Make sure to allow the eggs to come to room temperature before incorporating them into the mixture.
Cinnamon, Nutmeg, and Vanilla
Vanilla extract and warming spices like cinnamon and nutmeg are responsible for the cozy flavor that you likely associate with sweet potato pie. For extra flavor, consider adding a touch of ginger or allspice.
Unbaked Pie Crust
Use our top-rated Butter Flaky Pie Crust for guaranteed delicious results. Of course, a frozen or refrigerated crust will work in a pinch.
Sweet Potato Pie vs. Pumpkin Pie
Sweet potato and pumpkin pies are both autumnal desserts that are popular during the cooler months, particularly during the holiday season.
Pumpkin pie has a milder flavor that's typically flavored with a lot of spices. Sweet potatoes are naturally a bit sweeter and flavorful, so sweet potato pie doesn't usually feature as many spices.
Pumpkin pie is also generally quite dense, while its sweet potato-based counterpart is slightly airier.
How to Make Sweet Potato Pie
It's easier than you think to make a bakery-worthy sweet potato pie. You'll find the full recipe below, but here's a brief overview of what you can expect:
Can You Make Sweet Potato Pie Ahead of Time?
Yes, you can make sweet potato pie ahead of time! It's a great idea if you're prepping for a holiday and want to conserve oven space on the big day.
How to Know if Sweet Potato Pie is Done
When your pie is finished, it should wiggle slightly in the center (a little like Jell-O). If it swooshes or moves like a wave, your pie needs more time.
If the crust begins to brown more quickly than you would like, shield it with a pie crust shield, then keep on baking until the pie's center is set.
I find sweet potato pie rarely cracks (unlike pumpkin).
How to Store Sweet Potato Pie
Store sweet potato pie in the fridge, covered tightly in storage wrap or aluminum foil, for three to four days. You should refrigerate the pie as soon as it has cooled to room temperature.
Can You Freeze Sweet Potato Pie?
You can absolutely freeze sweet potato pie — and you should if you want to get a jump-start on holiday baking.
To freeze sweet potato pie, bake it in an aluminum pie plate (aluminum is thinner than ceramic alternatives, so it will help the pie freeze faster and prevent the development of ice crystals). Cover the cooled pie in several layers of storage wrap. Top the storage wrap with a layer of aluminum foil.
Thaw in the fridge overnight.
Can you reheat sweet potato pie?
Yes, you can reheat this yummy sweet potato pie recipe. If reheating directly from the freezer, place the frozen pie on a baking sheet (brush off any frost) and heat at 300° for 40-50 minutes. If your sweet potato pie has thawed from being frozen in your refrigerator, place the chilled pie on the baking sheet and bake at 300° for less time, for about 30 minutes. In both cases, insert the tip of a knife into the center of the pie to see if the pie has warmed up.
TIP:
While they may not be as pretty as your grandmother's pie plate, I like to bake pies that I intend to freeze in disposable aluminum pie pans. This leaves your "pretty" pie dish available for other recipes you may need it for (like this Sweet Potato Quiche).
SWEET POTATO PIE HISTORY
As far back as the 16th century, sweet potatoes were being shipped from South America (where they originated) to Western Europe and Africa. In Europe, sweet potatoes became increasingly popular, and locals created a dish known as "sweet potato tarts." When colonists came to America, they continued to make this dish.
Over time, the sweet potato tart garnered the most fans in Southern states (just like this Buttermilk Pie) because they were easier to grow than pumpkins (pumpkin pie became the preferred pie of the American North).
As stoves became more attainable to households around the nation, and processed ingredients like sugar became more accessible, the idea of making formal desserts (like pie) quickly spread, leading to the sweet potato pie that we know today.
So, while pumpkin pie may be the one that's often considered traditional for Thanksgiving (or at least it is in my family), my theory that sweet potato pie deserves serious consideration for the T-Day spotlight does have some historical backing when you look at the origin of sweet potato pie.
Ingredients:
4 medium-sized sweet potatoes
1 can sweeten condensed milk
1 cup light brown sugar
1/3 cup white sugar
1/4 cup honey
1 stick of real butter
2 eggs
1 tablespoon good vanilla extract
1/2 teaspoon nutmeg
1/2 teaspoon cinnamon
1/8 teaspoon allspice
1/4 teaspoon salt
I used frozen pie shells
Ingredients:
4 medium-sized sweet potatoes
1 can sweeten condensed milk
1 cup light brown sugar
1/3 cup white sugar
1/4 cup honey
1 stick of real butter
2 eggs
1 tablespoon good vanilla extract
1/2 teaspoon nutmeg
1/2 teaspoon cinnamon
1/8 teaspoon allspice
1/4 teaspoon salt
I used frozen pie shells
Instructions:
Preheat oven to 375°
Bake sweet potatoes until tender (about 45 min to an hour)
In a large mixing bowl combine condensed milk, 2 beaten eggs, vanilla extract, melted butter, and honey.
Add sugar, salt, nutmeg, allspice, and cinnamon and mix well.
Add peeled sweet potatoes one at a time.
Mix at low speed for several minutes until smooth.
Poke the bottom of pie shells with a fork to prevent puffing then place in a preheated 350°oven for 8 – 10 minutes before adding filling.
Fill pie shells and bake for 60 minutes until pies are firm
Tips:
The pie will be puffed up like a soufflé when you remove it from the oven but will deflate as it cools.
Nutrition Facts
Servings Per Recipe: 8
Calories: 389.4
% Daily Value *
Protein: 4.5g
9 %
Carbohydrates: 47.8g
15 %
Dietary Fiber: 2.6g
11 %
Sugars: 28.3g
Fat: 20.6g
32 %
Saturated Fat: 9.8g
49 %
Cholesterol: 78.2mg
26 %
Vitamin A Iu: 8496IU
170 %
Niacin Equivalents: 2.1mg
16 %
Vitamin B6: 0.1mg
9 %
Vitamin C: 1.4mg
2 %
Folate: 30.7mcg
8 %
Calcium: 49.2mg
5 %
Iron: 1.2mg
7 %
Magnesium: 21.1mg
8 %
Potassium: 251.2mg
7 %
Sodium: 253.7mg
10 %
Thiamin: 0.1mg
14 %
Calories From Fat: 185.6
IF YOU LIKE THIS RECIPE…YOU MAY ALSO LIKE: