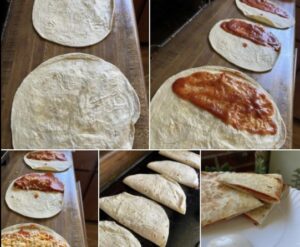 Pizzadillas: A Super Easy & Budget-Friendly Lunch for Kids 🍕🌮"
Mini Presentation: Looking for a quick, pocket-friendly, and kid-approved lunch? Look no further than Pizzadillas! These delightful creations are a clever fusion of pizza and quesadillas, and they're a huge hit with kids (and kids at heart). With just a few simple ingredients and a griddle, you can whip up a scrumptious meal in no time. Here's how:
Ingredients:
Tortillas
Pizza sauce
Pepperoni
Shredded cheese
Optional: Toppings of your choice
Instructions:
Begin by spreading a layer of pizza sauce on a tortilla. Don't be shy with it; it's where the flavor adventure begins.
Next, it's time to add your pepperoni. Feel free to get creative with other toppings if you like. Some sliced bell peppers, olives, or mushrooms could work wonderfully.
Top it all off with a generous handful of shredded cheese. This is what will bring the quesadilla part to life and make everything deliciously melty.
Now, fold the tortilla over to cover your delightful creation. It's like a pizza turnover waiting to be born.
Preheat your griddle or a skillet. Place your Pizzadilla on it and grill for about 5 minutes on each side. You'll know it's ready when it's golden and crispy on the outside, and the cheese inside has transformed into a gooey, delicious wonderland.
For that extra zing, serve your Pizzadillas with a side of ranch dressing for dipping. It's the perfect complement to the pizza flavors.
And there you have it – Pizzadillas! A delightful, budget-friendly, and quick lunch that's perfect for kids and kids at heart. Enjoy the smiles around your table as everyone indulges in these cheesy, pizza-inspired pockets of joy. 🍕🌮😋