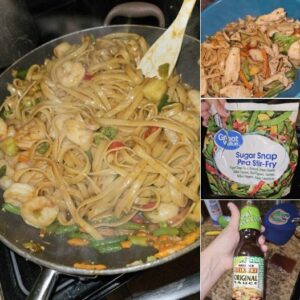 Simple and Affordable Shrimp and Chicken Lo Mein
Whip up a delicious and budget-friendly dinner with this quick Shrimp and Chicken Lo Mein recipe. Ideal for both kids and adults, you can make either version for around $10-11.00, using ingredients readily available at Walmart.
Ingredients:
Fettuccine noodles (2 packs) – $0.98 each
Frozen stir-fry vegetables – $2.42
Chicken – $5.00
Shrimp – $6.00
Lo Mein sauce (2 bottles) – $2.87 each
Instructions:
Cook the fettuccine noodles according to the package instructions. Drain and set them aside.
While the noodles are cooking, prepare your choice of protein. For chicken, slice it into bite-sized pieces and cook until no longer pink. For shrimp, ensure they're peeled and deveined, then cook them until they turn pink and opaque. You can season the protein with your preferred spices.
In a large skillet, add the frozen stir-fry vegetables and cook them until they're heated through and slightly tender.
Add the cooked noodles and your choice of protein to the skillet with the vegetables.
Pour the Lo Mein sauce over the mixture and stir everything together. Heat until the dish is thoroughly heated and the flavors are well combined.
Serve your delicious Shrimp or Chicken Lo Mein hot, and enjoy an affordable, homemade Asian-inspired meal!
This recipe is a wallet-friendly way to enjoy delightful homemade lo mein for the whole family. Give it a try! 🍤🍗🍜