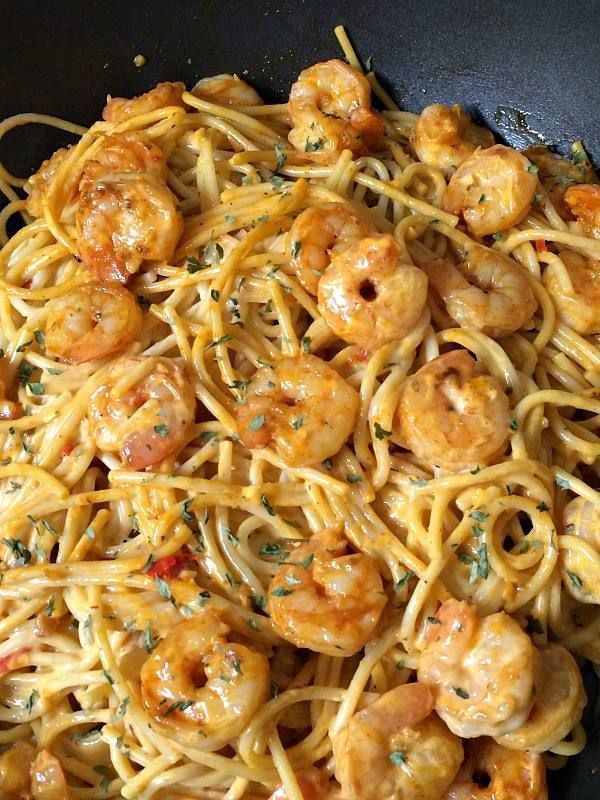 Ingredients :
1 pound of shrimp, tail on, peeled, and deveined
10 ounces linguini pasta, uncooked
¾ cup of fresh basil pesto, your chosen store-bought or homemade.
1 cup cherry tomatoes, sliced in half
1 tsp Italian seasoning
¼ cup of Parmesan cheese, grated
1 tbsp Olive Oil
Salt and Pepper to taste
1 tbsp lemon juice
1 tbsp garlic, minced
Instructions
FIRST STEP:
Cook the pasta according to the package directions
Heat 1 tbsp Olive oil in a skillet
SECOND STEP:
Allow the garlic to heat up in the Olive oil
Add the lemon juice to the skillet
THIRD STEP:
Place the shrimp into the skillet and sprinkle with Italian Seasoning
Cook the shrimp until they are light pink, do not overcook them
FOURTH STEP:
Mix the cooked linguine into the skillet with the shrimp
Add in the Pesto Sauce of your choice
FIFTH STEP:
Then add the cherry tomato halves
Toss all together with the grated Parmesan cheese
Garnish with chopped fresh parsley.
Enjoy!
I created a fun channel on  Telegram and I would love for you to join us! It's a place where you can share YOUR favorite recipes, ask questions, and see what's new at Dinners, Dishes, and Desserts (so that you never miss a new recipe)! If you'd like to check it out, you can request to join HERE

IF YOU LIKE THIS RECIPE…YOU MAY ALSO LIKE: