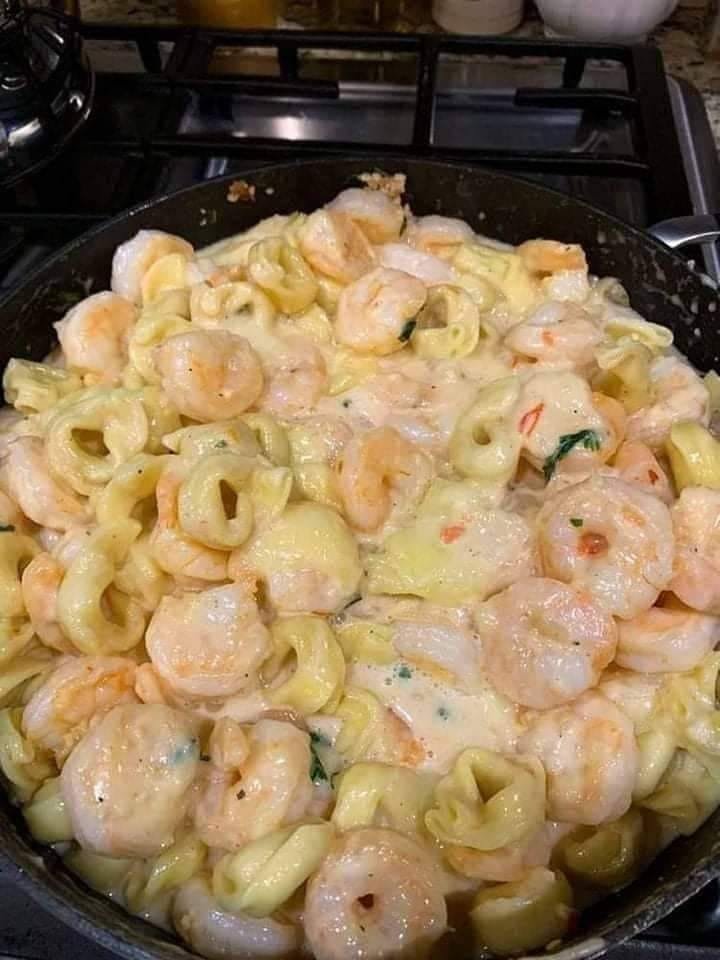 There's so much to love about this Broccoli Shrimp Pasta Alfredo; it's creamy, filling, and full of lots of flavors. The pan-seared garlicky shrimp adds protein, and the creamy sauce just brings the whole dish together wonderfully.
Can you use frozen shrimp?
Yes, frozen shrimp is actually more fresh than fresh shrimp in many cases. Defrost the shrimp fully and pat dry before seasoning and cooking.
Can you make it ahead of time?
This pasta alfredo is best served as soon as it's made, but if you have leftovers they will keep well in the fridge for 3 to 4 days. Reheat it gently on the stovetop to warm through to serve.
What do you serve it with?
This shrimp alfredo is a great filling dinner by itself, but it's great served with a Caprese or Greek salad. For a really filling meal, pair it with some garlic bread.
NOTES:
Storage: This pasta recipe is best enjoyed straight away, but any leftovers will keep for 3 to 4 days in the fridge.
Ingredients:
1 pound large, peeled and deveined shrimp
1 pound fresh Cheese Tortellini, you could use frozen
1 Roma tomato, diced
3 tbsp butter
2 Basil leaves, minced
2 garlic cloves, minced
1 tbsp all-purpose flour
½ cup heavy cream
¼ cup Parmesan Cheese, freshly grated
Salt and pepper to taste
Instructions:
FIRST STEP:
Melt the butter in a large skillet over medium heat
Add the shrimp and cook for 2 to 3 minutes, or until no longer translucent
SECOND STEP:
Add in the diced tomato, basil, and garlic
Stir and saute for 2 minutes
THIRD STEP:
Add the flour and stir to combine
Once the flour is incorporated, add in the heavy cream and the freshly grated parmesan cheese.
FOURTH STEP:
Cook the Tortellini according to the directions
Add the tortellini in and stir well
FIFTH STEP:
Toss to coat
Top with the remaining Parmesan cheese and a sprinkle of minced Basil
Ingredients:
1 pound large, peeled and deveined shrimp
1 pound fresh Cheese Tortellini, you could use frozen
1 Roma tomato, diced
3 tbsp butter
2 Basil leaves, minced
2 garlic cloves, minced
1 tbsp all-purpose flour
½ cup heavy cream
¼ cup Parmesan Cheese, freshly grated
Salt and pepper to taste
NUTRITION:
Calories: 600kcal, Carbohydrates: 60g, Protein: 41g, Fat: 22g, Saturated Fat: 12g, Trans Fat: 1g, Cholesterol: 342mg, Sodium: 1493mg, Potassium: 836mg, Fiber: 6g, Sugar: 8g, Vitamin A: 1651IU, Vitamin C: 141mg, Calcium: 424mg, Iron: 5mg
IF YOU LIKE THIS RECIPE…YOU MAY ALSO LIKE: