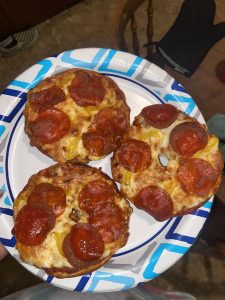 Pizza Bagels!!
• plain bagels
• butter
• Herb/garlic seasoning
• pizza sauce
• mozzarella cheese
• pepperoni & banana peppers
I took 1 and 1/2 bagels and added butter and herb and garlic seasoning straight on it. Then added pizza sauce, mozz. cheese, and pepperoni, and banana peppers. (obviously, you can make it however you like it). Baked at 375 for 10 minutes and broiled on 400 for 2 minutes.
Such an easy meal, practically no cleanup, easy ingredients and also picky eater and kid approved!