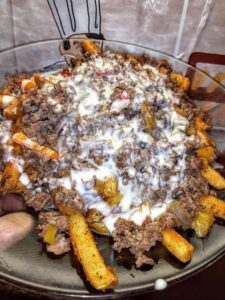 A savory steak, pepper, & onion mixture coated in a creamy, cheesy sauce all resting on a mound of crispy crinkle-cut fries. Philly Cheesesteak Fries can be shared with friends at your Super Bowl gathering or, if you're like me, you just make them for dinner.
Ingredients:
CHEESE SAUCE
1 tablespoon butter
1 tablespoon flour
2 cups milk, warmed
8 ounces white American cheese, cubed
1/4 cup parmesan cheese
1/2 teaspoon salt
1/4 teaspoon ground pepper (white or black)
CHEESESTEAK FRIES
1 bag of frozen crinkle-cut fries
1 pound ribeye steak
2 tablespoons oil, divided
1 medium green bell pepper, sliced 1/8″ thick
1 medium onion, sliced 1/8″ thick
1 recipe Cheese Sauce
Instructions:
Place steak in the freezer for about 45 minutes. Once firm, slice into thin 1/8″ strips, the thinner the better, really. Coat in 1 tablespoon oil and set aside.
Cook fries per package instructions; keep warm.
CHEESE SAUCE:
Melt butter in a medium saucepan.
Once the bubbling has subsided add flour and cook for 1-2 minutes until light brown.
Slowly add warm milk to the butter-flour mixture, stirring constantly. Cook 4-5 minutes until thickened.
Remove from heat and slowly mix in cubed cheese until melted.
Cover and cook on the lowest heat possible until it fully incorporates, stirring periodically. Keep warm.
MEAT, PEPPER, & ONION MIXTURE
Preheat a large saute pan over high heat.
Add meat to pan and cook, over high heat, until no longer red.
Remove from pan and set aside.
Return the pan to heat, add additional oil (if necessary), and add the peppers and onions.
Cook, stirring often until peppers are softened and onions are browned.
Return meat to the pan, stirring into the pepper and onion mixture.
Cook until the meat, peppers, & onions are caramelized. Remove from heat.
ASSEMBLING THE FRIES
Place cooked fries on a platter or sheet pan (see note).
Scoop meat mixture over fries.
Pour half of the cheese sauce over fries and meat.
Serve the remaining sauce on the side.
Ingredients:
CHEESE SAUCE
1 tablespoon butter
1 tablespoon flour
2 cups milk, warmed
8 ounces white American cheese, cubed
1/4 cup parmesan cheese
1/2 teaspoon salt
1/4 teaspoon ground pepper (white or black)
CHEESESTEAK FRIES
1 bag of frozen crinkle-cut fries
1 pound ribeye steak
2 tablespoons oil, divided
1 medium green bell pepper, sliced 1/8″ thick
1 medium onion, sliced 1/8″ thick
1 recipe Cheese Sauce