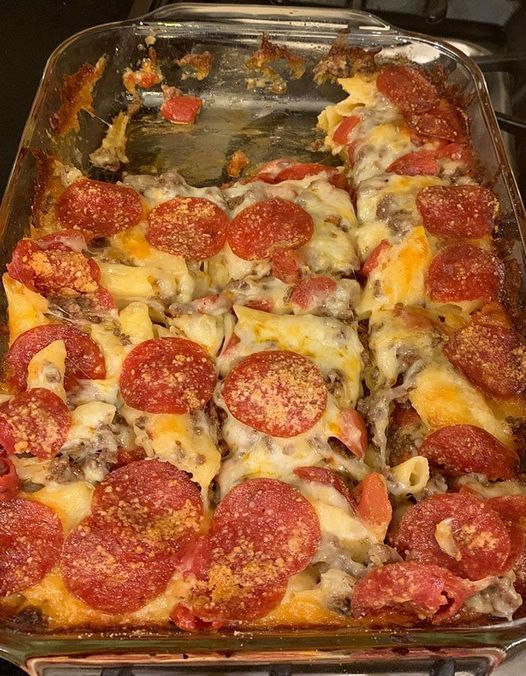 INGREDIENTS:
1 lb. ground meat
1 16 oz. box bow tie pasta
½ teaspoon salt
½ teaspoon oregano
½ teaspoon garlic powder
2 ounces sliced pepperoni
1 (26 ounces) jar of pasta sauce
1 10 oz. can dice Italian-style tomatoes
¼ cup grated parmesan cheese
1 (8 ounces) package shredded Italian cheese blend
Any other pizza toppings, you can add like black olives, sausage, onions, green peppers,
Directions:
Boil water and salt for pasta. Once it starts boiling, add pasta. Brown meat in a separate frying pan. When pasta is cooked, drain.
In a lightly greased 9×13×3 inch pan, pour a small amount of sauce to lightly coat the bottom. Add a layer of pasta and add 1/2 of sauce, a can of tomatoes, garlic powder, and oregano.
On top of the pasta, layer the ground meat, then add a layer of pepperonis. Sprinkle Parmesan cheese and Italian cheese. And layer more pepperoni. Top with bacon bits and anything else you like just like a pizza!
Bake in the oven at 350 degrees for 30 minutes