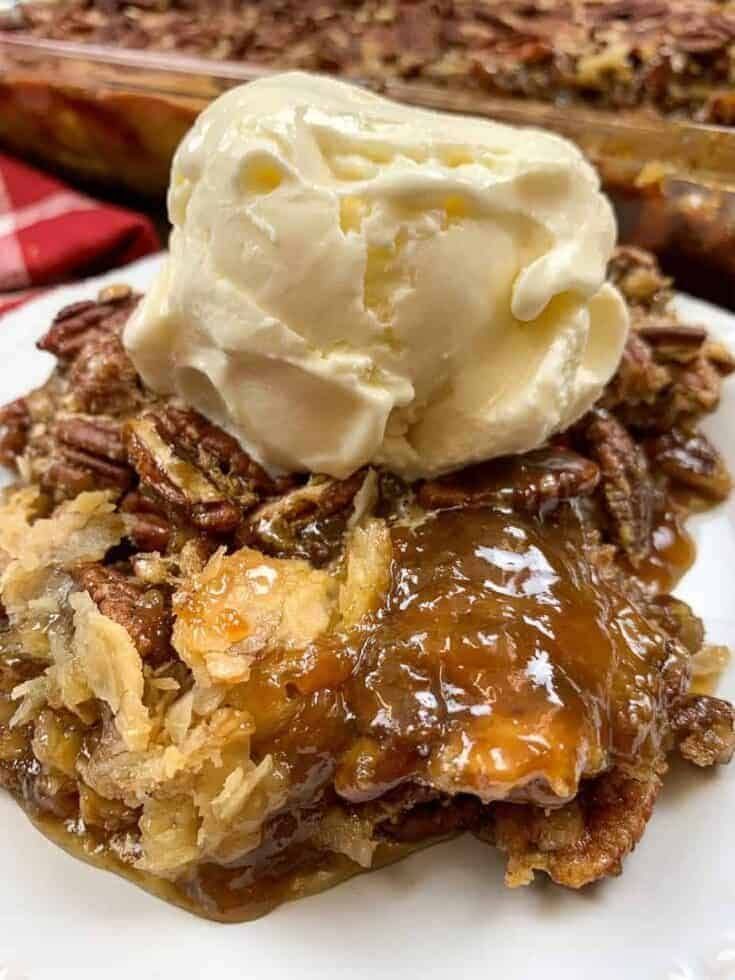 Pecan Pie Cobbler is one of the best desserts that I have ever had! An easy-to-make dessert that tastes like pecan pie with a cobbler crust on top. It creates an amazing caramel sauce as it bakes!
I love pecan pie so much, that I have so many delicious dessert inspirations like this one. Be sure to also try these fun spin-offs Pecan Pie Bars and No Bake Banana Caramel Pecan Pie.
Pecan Pie Cobbler
Oh boy! Have I got an amazing fall dessert for you? Stop everything that you are doing and run to the store and make this incredible dessert for your family. I spotted this dessert in a Taste of Home magazine, and being so obsessed with Pecan Pie, I knew that I had to try it! We were completely blown away by all that this dessert had to offer. It has everything that you love about a pecan pie with a buttery cobbler crust on top. And then, it gets better!! It creates this magical caramel sauce as it bakes making it the ultimate fall dessert.
Ingredients :
1 Box refrigerated pie crusts, softened as directed on the box
2 1/2 cups light corn syrup
2 1/2 cups packed brown sugar
1/2 cup butter, melted
4 1/2 teaspoons vanilla
6 eggs, slightly beaten
2 cups coarsely chopped pecans
Butter-flavor cooking spray
2 cups pecan halves
Vanilla ice cream, if desired
PLEASE USE THE NEXT PAGE BUTTON  FOR THE INSTRUCTIONS