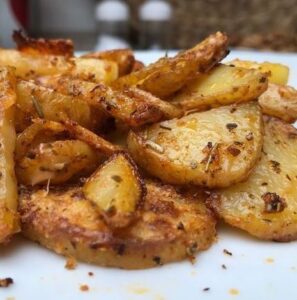 Garlic Parmesan Roasted Red Potatoes are an easy side you'll want to serve with all your favorite meals. From weeknights to holidays, they're a dinner win!
I'm sure you've figured it out by now but we're a meat and potatoes family. As much as I love different foods carbs as my go-to dinner side. It doesn't matter if it's pasta, rice, or potatoes, I'm a carb lover.
These Garlic Parmesan Roasted Red Potatoes are my latest obsession. Oven-roasted and oh so yummy. These potatoes are a great recipe to go along with any meal you're making!
When it comes to serving up a side to go with dinner, potatoes are always a win at our dinner table. It doesn't matter if it's mashed potatoes, baked potatoes, or scalloped potatoes. But these roasted red potatoes are one of my favorite potato recipes.
I can mix everything up and get them baked while I prepare the rest of our meal. They're a set-and-forget side dish that makes dinner time less stressful for me.
Ingredients for this Roasted Red Potatoes Recipe
Small red potatoes
Olive oil
Garlic
Dried oregano
Dried basil
Paprika
Salt & pepper
Parmesan cheese
Unsalted butter
Fresh parsley
2 tsp. dried parsley flakes
1 tsp. Lawry's Season Salt
1/2 tsp. onion salt
1/2 tsp. garlic powder
Directions
Preheat the oven to 375 degrees.
Line a large cookie sheet with aluminum foil and grease with vegetable spray.
Clean potatoes and cook in the microwave till potatoes are just tender when pierced with a fork.
Don't overcook them!
(Make sure to poke a couple of holes in the potatoes before cooking them.  I have a potato setting on my microwave which makes it easy to cook)
After the potatoes have been microwaved, cut them in half lengthwise, then cut again.
Put the oil, parmesan cheese, and seasonings into a large Ziploc bag, and add the potatoes.
Shake the bag until the potatoes are completely covered and the ingredients are all mixed well.
Pour out onto the prepared cookie sheet and cook for 15-20 minutes.