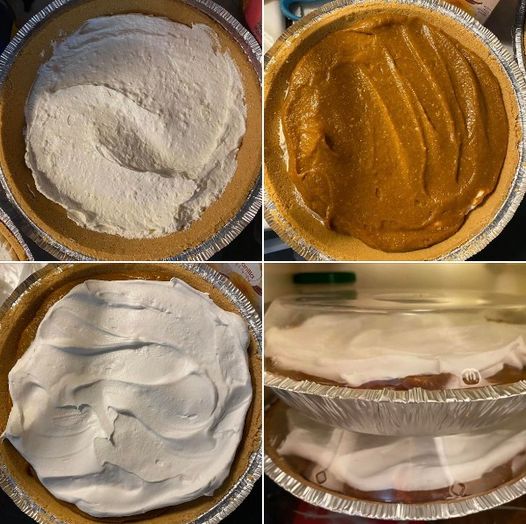 Absolutely, here's the recipe for the No-Bake Pumpkin Pie with a delightful twist, perfect for the upcoming Thanksgiving festivities:
Since Thanksgiving is just around the corner, why not add a twist to the classic pumpkin pie? This No-Bake Pumpkin Pie recipe is not only delicious but also budget-friendly, using Great Value brand ingredients. Each layer brings a burst of flavor, creating a delightful treat for your holiday table. Plus, it's quick and easy to make, leaving you more time to enjoy the festivities!
Ingredients:
2 cups canned pumpkin
1/2 cup sugar
8 ounces cream cheese, softened
Two 8-ounce containers of whipped cream
1 tablespoon cinnamon
2 teaspoons pumpkin pie spice
1 teaspoon nutmeg
One 3.4-ounce box vanilla pudding mix
1 cup milk
2 pre-made crusts (such as graham cracker)
Instructions:
First Layer:

In a bowl, blend together the softened cream cheese, sugar, and one container of whipped cream using a hand mixer until smooth.
Divide the mixture evenly into the bottom of your pre-made pie crusts.

Second Layer:

In another bowl, mix the vanilla pudding and milk until it thickens.
Add 2 cups of canned pumpkin to the pudding mixture.
Stir in the cinnamon, nutmeg, and pumpkin pie spice.
Divide this pumpkin-pudding mixture evenly over the first layer in the pie crusts.

Third Layer:

Split the second container of whipped cream and spread it over the pies as the final layer.

Chill and Serve:

Refrigerate the pies for at least 4 hours or until set.
Prior to serving, you can optionally garnish with additional whipped cream, a sprinkle of cinnamon, or a few nutmeg shavings for a festive touch.

Slice and Enjoy:

Once chilled, slice and serve this delightful No-Bake Pumpkin Pie. The layers of creaminess and spice make it a unique and tasty addition to your Thanksgiving dessert spread.
This no-bake pumpkin pie is sure to be a hit with its creamy layers and classic fall flavors. Enjoy the ease of preparation and the delightful taste that this twist on a Thanksgiving classic brings to your table.
Absolutely, let's address some popular questions about this No-Bake Pumpkin Pie:
Q1: Can I use fresh pumpkin instead of canned pumpkin? A1: Yes, you can use fresh pumpkin puree. Just make sure it's well-drained and has a similar consistency to canned pumpkin.
Q2: Can I use a different type of crust? A2: Certainly! While the recipe suggests graham cracker crusts, you can use a traditional pie crust or even a chocolate cookie crust for added flavor.
Q3: Can I make this ahead of time? A3: Yes, this pie is perfect for making ahead. It's recommended to refrigerate for at least 4 hours, but you can also make it the night before your event.
Q4: Can I substitute whipped cream with a non-dairy alternative? A4: Yes, you can use non-dairy whipped topping if you prefer a dairy-free option.
Q5: Is the pie overly sweet with the addition of sugar and vanilla pudding mix? A5: The sweetness level is moderate, but you can adjust the sugar amount to your taste. If you prefer a less sweet pie, you can reduce the sugar in the cream cheese layer.
Q6: Can I use a sugar substitute for a lower-calorie version? A6: Yes, you can substitute sugar with a sugar alternative suitable for baking.
Q7: What can I use if I don't have pumpkin pie spice? A7: If you don't have pumpkin pie spice, you can make your own by combining cinnamon, nutmeg, and cloves.
Q8: Can I freeze this No-Bake Pumpkin Pie? A8: It's not recommended to freeze this pie as the texture may change when thawed. It's best enjoyed fresh from the refrigerator.
Q9: Can I make individual mini pies instead of one large pie? A9: Absolutely! You can use mini pie crusts or ramekins to create individual servings.
Q10: Can I add a layer of chocolate or caramel sauce? A10: Yes, you can drizzle chocolate or caramel sauce between the layers or on top for an extra indulgent touch.
Q11: What can I garnish the pie with for serving? A11: You can garnish with additional whipped cream, a sprinkle of cinnamon, or a few nutmeg shavings for a festive presentation.
Q12: Can I use a different flavor of pudding mix? A12: While vanilla pudding adds a creamy texture, you can experiment with other flavors like butterscotch or caramel for a unique twist.
Feel free to ask if you have any more questions or need further clarification!
helpful tips to make your No-Bake Pumpkin Pie even more delightful No-Bake Pumpkin Pie