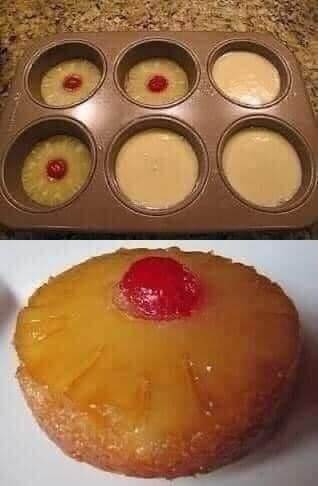 Ingredients:
°1 box of yellow cake mix.
°1 Can cut pineapple into slices, filter the juice and reserve for later.
°12 pcs of maraschino cherries.
°1 cup packed brown sugar.
°1/2 cup canola oil.
°1/3 cup melted butter.
°3 large eggs.
Directions :
Step 1: I preheated the oven to 350 degrees F .
Step 2: Cut the pineapple slices into small pieces.
Step 3: Mix cake mix with oil, reserved juices, and eggs, one at a time, beating after each addition with an electric mixer for 4 minutes.
The fourth step: In a separate bowl, combine the melted butter with the packed brown sugar, add 2 tablespoons of this mixture into each muffin cup, and place on top of the pineapple mixture, half of the maraschino cherry, and 3 tablespoons of the batter.
Fifth step: Bake the cupcakes for 22 to 28 minutes and remove them from the oven when they have changed color to golden brown.
Serve warm with coffee, it's the best way to serve it to me. Hope you enjoy your weekend!