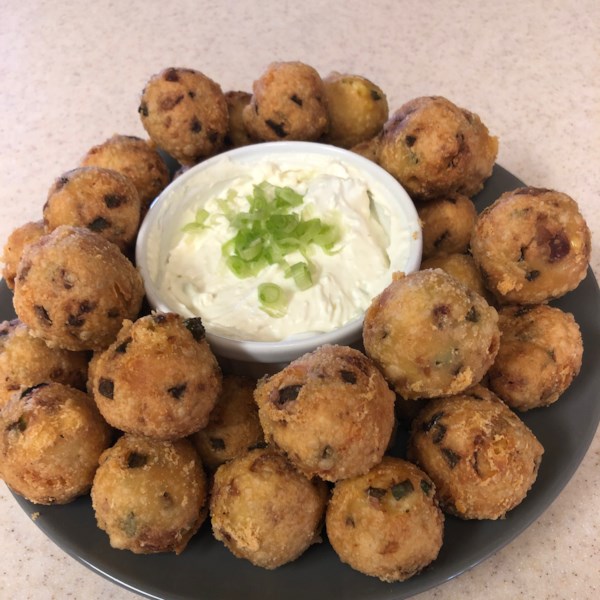 Jalapeño Bacon Cheese Ball is loaded with cheese, bacon, and jalapeños. This is always the biggest hit at any party! I have had this secret obsession lately with jalapeños since I made this Jalapeno Cornbread.
I have always been a wuss when it comes to things that are spicy, so I have been afraid to always give anything with jalapeños a try. Boy have I been missing out! The cream cheese helps to cool down the jalapeños and gives it just enough of a kick to give it amazing flavor. This is a true holiday appetizer that is perfect for your holiday parties this season!
Ingredients
2 (8 ounce) packages cream cheese softened
3 jalapeños seeded and finely chopped, divided
1 cup shredded cheddar cheese
8 slices of bacon cooked and chopped, divided
1/4 cup green onions chopped
1 teaspoon seasoning salt
1 teaspoon minced garlic
1 teaspoon Worcestershire sauce
1/4 teaspoon cumin
1/2 cup pecans coarsely chopped
Instructions
In a medium sized bowl, stir together cream cheese, half of the jalapeños, shredded cheddar cheese, half of the bacon, green onions, seasoning salt, minced garlic, Worcestershire sauce, and cumin until fully incorporated.
On a large plate combine other half of the bacon, jalapeños, and pecans. Shape the cream cheese mixture into a ball and roll it onto the plate to coat well.
Cover with seran wrap and chill for an hour before serving. Store leftovers in the fridge for up to 3 days.