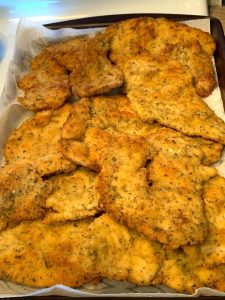 Italian Chicken Cutlets – Don't Lose This Recipe

You'll Need :
3 chicken breasts, cut 1/4 inch thick (or thin chicken cutlets) (6-8 total)
3/4 cup flour, (seasoned with salt and pepper)
1 cup Italian breadcrumbs
3 eggs, beaten
1/2 cup grated Romano or Parmesan cheese
2 t garlic powder
2 t onion powder
2 t Italian seasoning
2 t pepper
2 t salt
2 t garlic and herb seasoning (see Shop Items I use, on top of page)
1/2-3/4 cup oil
Direction:
Make a breading station with 3 bowls. In one bowl mix together breadcrumbs with cheese, and all seasonings, in a 2nd bowl add the beaten eggs, the last bowl should have the flour with a sprinkle of salt and pepper.
First, put the chicken in the flour mixture, then the egg mixture, and then the breadcrumbs. Covering completely. Set aside on a plate. Continue with the remaining chicken.
Heat a large saute pan on high heat. Add in the oil and let heat up completely. To check if oil is hot add the end of a wooden spoon and make sure it starts to bubble. Preheat oven to 300.
Once heated completely, add a few chicken pieces at a time to the pan, maybe 3 depending on the size of the pan. Do not overcrowd the pan. (Note you may need to add more oil to the pan after cooking some pieces.
Cook chicken for 2-4 minutes on one side and then flip and cook another 2-3 minutes. The cooking time will vary based on the thickness of the chicken breast and the temperature of the oil.
Once cooked, drain the chicken cutlet on a paper towel to remove all the excess grease. Then place on a cookie sheet and put in the oven to keep it warm. Continue with the remaining chicken breast.
Serve the chicken cutlet with pasta, a salad, veggies or a nice carb. Enjoy!